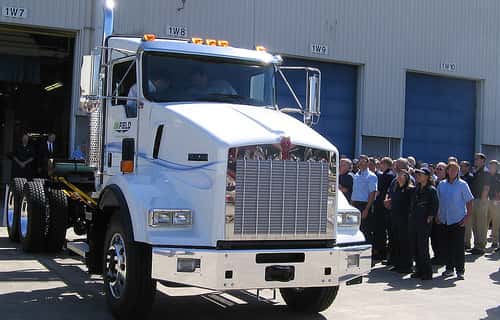 Kenworth has delivered its first full-production heavy-duty truck powered by the new 400-horsepower Cummins Westport ISX12 G natural gas engine.
Oilfield Trucking Solutions (OTS), an affiliate of Chesapeake Oilfield Services (COS), is the customer that added the T800 extended day cab truck to its fleet. OTS has a fleet of 260 trucks – all Kenworths – that operate in Texas, Oklahoma, Ohio, Pennsylvania and West Virginia.
'This first Kenworth truck equipped with the 400-hp ISX12 G engine represents an important initial step in a cutting-edge change in how the oil and natural gas production industry fuels its field servicing trucks,' says Jerry Winchester, CEO of COS.
OTS' new truck features a pair of side-mounted Type 4 compressed natural gas (CNG) cylinders, which together yield a driving range of approximately 450 miles.
'The recent price difference between natural gas and diesel – at an average of $2 per diesel gallon equivalent in Oklahoma – provides an estimated annual savings of $50,000 with the CNG-powered Kenworth T800,' adds Chris Broussard, OTS' president. 'That means Oilfield Trucking Solutions can start generating a positive return on investment in just a little over a year.'
'The combination of 1,450 lb-ft of torque, simplified emissions and a 40 to 50 percent reduction in fuel price are key motivators for customers to consider natural gas,' says Andy Douglas, Kenworth's national sales manager for specialty markets. He notes that demand for the ISX12 G 'has been exceptional.'