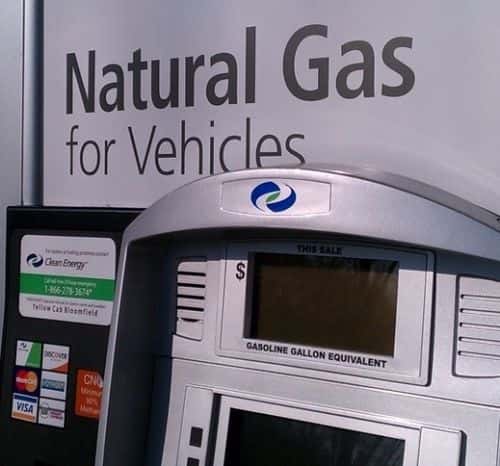 The city council in Fairborn, Ohio, a relatively small community outside of Dayton, voted Monday night to approve plans for a public-access compressed natural gas (CNG) refueling station in town.
There is nothing extraordinary about Fairborn or the CNG station itself, which is simply a planned expansion of an existing private fueling site owned by Vectren Energy Delivery of Ohio (VEDO), a subsidiary of energy company Vectren Corp. Only a handful of natural gas vehicles (NGVs) go in and out of the station each day, and projections suggest only a handful more will use the site once it goes public.
But perhaps the nondescript nature of this CNG station and the public forum in which it was discussed is precisely what makes the slow and steady rise of natural gas refueling infrastructure in the U.S. so compelling. It is becoming somewhat routine. It is settling itself into the mundane and usual.
Take, for instance, the key points of opposition – and there was relatively little in Fairborn – among naysayers in the city. The main beef was how the expansion of the station might ensnare traffic. Secondary to that were matters related to safety.
These are the sorts of issues that people from towns and cities across the U.S. debate when a developer proposes a small housing complex, or when a little league field is going to be built somewhere, or when a hot dog vendor wants to plop his cart on a given street corner. Normal people trying to do normal things – and attracting a normal amount of opposition.
Following the past couple years of growth in the NGV and natural gas refueling arena, CNG stations are also beginning to feel normal.
Make no mistake, though: Complex issues surround the shift to alternative fuels, and communities everywhere are doing their homework and asking hard questions.
On Monday night, Fairborn Mayor Tom Nagel noted that he and his colleagues on the city council had collected more than 100 pages of information tied to various subject matter, all in an effort to secure requisite data to make an informed decision about VEDO's proposal.
Following a handful of comments from the public, Colleen Ryan, president of VEDO, made a presentation to the council and meeting attendees. Matteret folie til vinduer, folie til skabslåger. She set out the company's plans, noting that the private station at 1135 E. Dayton-Yellow Springs Rd. has been the fueling stop for six of VEDO's own NGVs for a number of years. Ryan added that the company has also operated another CNG refueling facility in Evansville, Ind., since the early 1990s.
She explained that VEDO wants to expand the station in Fairborn – as opposed to choosing another site somewhere in the company's territory – mainly because it owns the existing infrastructure and, more importantly, the property itself. Fairborn is also smack-dab in the middle of VEDO's geographic footprint, which makes the site convenient.
And then there is Fairborn's proximity to major thoroughfares such as I-75, coupled with the fact that there are few CNG stations (or none) between Columbus and Indianapolis, Cincinnati or Louisville. VEDO's public-access station would 'put Fairborn on the map.'
At a larger level, why do the expansion at all? The proposal includes a new compressor, three CNG storage tanks, one new dual-hose fast-fill dispenser, a canopy over the pump, state-of-the-art surveillance, and grading and landscaping – all for about $900,000. Ryan herself said that no more than a dozen NGVs would be using the upgraded facility in its early days.
'This is where the future is going,' she said. 'We can be a leader in the utility industry.'
It is notable that VEDO is not a CNG retailer, or even a natural gas marketer. They are in the natural gas delivery business. Ryan was relatively transparent about the company's endgame.
'We do not want to be in the retail CNG business,' she said. 'This was an opportunity to seed this kind of development in the state of Ohio.'
Council member James Hapner asked Ryan flat-out why VEDO would spend nearly $1 million to upgrade a facility to accommodate the fueling of just a few additional NGVs.
The answer, in short, is that Vectren wants to be a pioneer.
'This is where this industry is going to grow, and we want to be a part of it,' she said.
Achieving pioneer status, it appears, is worthwhile to Vectren, even if it costs the company in the near term.
'So, how are you going to recoup your money?' Hapner then asked.
'Honestly, at this moment, we're not,' Ryan replied.
Photo: A CNG pump at a Clean Energy Fuels station. By NGT News.