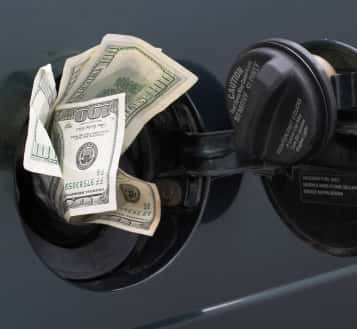 This week, credit-ratings agency Fitch Ratings released a report that looks at the new federal fuel economy and CO2 standards for vehicles and forecasts significant changes for both automotive OEMs and the auto supply chain.
The new standards, which the U.S. Environmental Protection Agency (EPA) and National Highway Traffic Safety Administration (NHTSA) finalized this summer, call for a Corporate Average Fuel Economy (CAFE) target of 54.5 miles per gallon (mpg) by 2025 for passenger cars and light trucks. The new fuel efficiency goal extends existing standards that mandate a CAFE of 35.5 mpg by 2016.
Fitch took up the topic to give investors insight about what these aggressive targets mean for major global auto manufacturers and suppliers. The company's central observation is that although the standards take effect gradually, implementing the changes necessary to meet the mandate is a daunting and expensive proposition that will affect OEMs' and suppliers' technology and production roadmaps.
'Nonetheless, most major manufacturers, including all of the Detroit Three, have endorsed the standards, primarily because of the long-term regulatory certainty that the standards bring, as well as harmonization between the federal standards and those of the state of California,' the report states.
Barring a U-turn in federal policy – which is unlikely now that President Barack Obama has secured a second term – the CAFE standards are here to stay. In turn, the development of more fuel-efficient vehicles and of the materials and equipment that go into those vehicles will rapidly accelerate.
In anticipation of mass production, OEMs' research and development efforts are in high gear. Fitch notes that the traditional internal combustion engine will remain the dominant platform, powered by diesel, gasoline and natural gas. Vehicle electrification will play a part in reaching toward CAFE standards, but it is likely that hybridization and not full electrification will be prevalent.
So, in Fitch's estimation, which companies are best-positioned to take advantage of the CAFE mandate? The company's report highlights a few potential winners from among the firms it monitors, focusing on auto suppliers – who, Fitch argues, stand to benefit most from the drive for higher fuel efficiency.
In the powertrains arena, turbocharger makers such as BorgWarner Inc., Honeywell International Inc., Mitsubishi Heavy Industries Ltd., IHI Corp. and Continental AG are all contenders. BorgWarner is also a provider of advanced variable valve timing systems, which are designed to optimize engine performance and boost fuel economy. Denso Corp. and Schaeffler Technologies AG & Co. KG are other leaders in this space.
Direct fuel injection is another powertrain technology that will be increasingly used by OEMs, as these systems offer great precision in terms of fuel delivery and consumption. Delphi Automotive PLC, Bosch GmbH, Magneti Marelli SpA, Hitachi Ltd., Denso and Continental currently dominate the direct fuel injection market.
Advanced transmission technologies – particularly automatics – will also help auto makers push the fuel-efficiency envelope. Major traditional automatic transmission suppliers include BorgWarner, ZF Friedrichshafen AG, Aisin Seiki Co. Ltd., JATCO and Valeo. BorgWarner, ZF and Getrag also supply automated manual transmissions, which are geared like a traditional manual transmission but are shifted through a computer.
Continuously variable transmissions, which OEMs such as Honda and Nissan have popularized, will also gain market share. These products 'dispense with
traditional gear sets and typically use a belt and variable-diameter pulleys, effectively providing an infinite number of gear ratios' and offering maximum fuel efficiency, the report states.
To read more about Fitch's work, click HERE and register (free of charge) to access the full report.