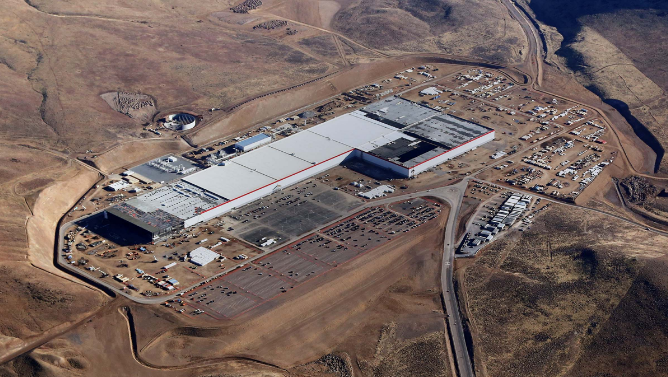 Electric automaker Tesla and Panasonic have officially begun the mass production of lithium-ion battery cells, which will be used in Tesla's energy storage products and its Model 3 electric vehicle, according to the Tesla blog.
The blog states, "Production of 2170 cells for qualification started in December, and today, production begins on cells that will be used in Tesla's Powerwall 2 and Powerpack 2 energy products. Model 3 cell production will follow in Q2, and by 2018, the Gigafactory will produce 35 GWh/year of lithium-ion battery cells – nearly as much as the rest of the entire world's battery production combined."
According to Tesla, the Gigafactory is being built in phases so that manufacturing can begin immediately inside the finished areas.
"With the Gigafactory online and ramping up production, our cost of battery cells will significantly decline due to increasing automation and process design to enhance yield, lowered capital investment per Wh of production, the simple optimization of locating most manufacturing processes under one roof, and economies of scale."
Tesla continues, "By bringing down the cost of batteries, we can make our products available to more and more people, allowing us to make the biggest possible impact on transitioning the world to sustainable energy."
In a separate notice, Tesla announced that it produced 24,882 vehicles in Q4, resulting in a total 2016 production of 83,922 vehicles. This was an increase of 64% from 2015.
Further, the company delivered approximately 22,200 vehicles in Q4, of which 12,700 were Model S and 9,500 were Model X. When added to the rest of the year, total 2016 deliveries were approximately 76,230.
The company says vehicle demand in Q4 was particularly strong, as net orders for Model S and X were 52% higher than Q4 2015 and 24% higher than the previous record quarter in Q3 2016.
Photo courtesy of the Tesla blog.