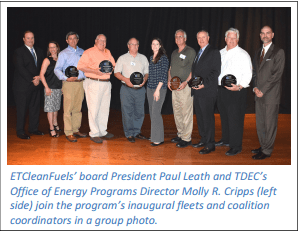 Tennessee Clean Fuels (TCF) inducted the first eight fleets into the Tennessee Green Fleets Certification Program last week at the University of Chattanooga during the second annual Sustainable Transportation Awards & Forum, which is managed by the Tennessee Departments of Environment & Conservation (TDEC) and Transportation (TDOT).
TCF says it collaborated with TDEC and TDOT on the event and assisted in setting up a 20-vehicle alternative fuel vehicle showcase that incorporated compressed natural gas (CNG), plug-in electric, propane autogas, hybrid and other advanced technology vehicles.
The Tennessee Green Fleets Certification Program is designed to utilize performance-based metrics to analyze any fleet's vehicle and fuel-use data and compare new actions it has taken to what its footprint would have looked like without those actions.
A points-based, three-star system allows for certification at the one-, two- or three-star level, if the applicant fleet met the appropriate minimum at each level.
The program encompasses all fuel and technology options, including biodiesel, natural gas, propane, electric, ethanol, hybrid, idle-reduction and fuel economy strategies. The applicant fleets that receive certification can promote their fleet's greening efforts and include that in its sustainability portfolio information.
The following were certified as one-star fleets:
Gibson County Utility District – Built a public CNG station in small West Tennessee community of Trenton and have moved almost half of its 36-vehicle fleet to CNG.
Scott Appalachian Industries – Built public CNG station in small East Tennessee community of Huntsville/Oneida and has transitioned half of its fleet to CNG.
City of Kingsport, police fleet – Largest propane fleet across the entire state with a total of over 50 autogas vehicles, with 23 police cars that include Crown Victorias and Dodge Chargers. Further, 10 more autogas cars are expected to be added in 2016.
The following were certified as two-star fleets:
Turf Managers LLC – Eight of its 14 professional mowers run on propane, and it plans on switching more over to autogas.
Common Grounds Landscape Management – All 18 of its professional mowers operate on propane.
The following were certified as three-star fleets:
Waste Management, Antioch operations – Transitioned 68 of its 90 refuse trucks out of its Antioch, Tenn., operations center to CNG, and over 80% of the fuel use there is CNG. The company opened a "Clean n Green" CNG station to the public, and it exists as the only public CNG station on the south side of Nashville for CNG vehicles.
UPS, Class 8 fleet – UPS operates 283 Class 8 liquefied natural gas (LNG) trucks that are based out of Knoxville, Nashville and Memphis.
Sullens Transport – All 40 of its Class 8, dairy product-hauling trucks run on B99, which it produces in-house. This biodiesel use results in a 67% reduction in its greenhouse gas emissions compared to running diesel.