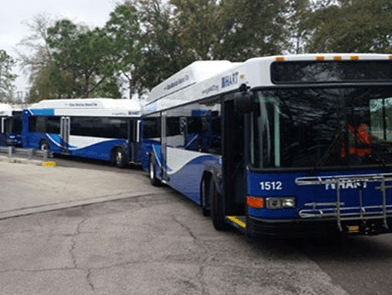 The Hillsborough Area Regional Transit Authority (HART), based in Tampa, Fla., has selected Love's Trillium CNG to provide complete operations and maintenance services on its compressed natural gas (CNG) fueling station.
As reported, Trillium will also complete a series of upgrades to the existing facility.
"As the first transit agency in Florida to invest in CNG, we knew HART had serious long-term CNG goals that we felt we could meet," says Bill Cashmareck, director of Trillium CNG. "We're honored they would put their trust in Trillium's preventative maintenance and operations services to help them continue with the transition, and we're proud to offer that to HART and its riders."
In 2014, HART became the first public transportation agency in Florida to convert from diesel fuel to CNG. The private CNG station uses four 300-horsepower IMW compressors.
Per the agreement, Trillium will replace three control panels and develop custom programming, allowing the station to better use available capacity. A new valve and control panel will reduce wear and tear on the compressors, and improved filtration will reduce oil carryover to the vehicles. The upgrades will result in a more energy-efficient and cost-effective operation for HART.
According to HART, it provides safe and cost-effective public transportation services in Hillsborough County with a fleet of nearly 200 buses, covering 1,000 square miles.
Specifically, HART operates 34 CNG buses, with an additional 25 CNG buses to be delivered in fiscal year 2017, in addition to 39 HARTPlus vans, a service that provides transportation for people with disabilities, and eight HARTFlex vans, an on-demand van service within defined geographic zones of Hillsborough County.
As reported, these CNG vehicles replace diesel vehicles when they reach the end of their effective life. It will take three years for the fleet of vans and 10 years for the fleet of buses to transition to CNG.
"We are excited to be working with Trillium CNG to help us continue moving towards a more sustainable future," says Katharine Eagan, HART CEO. "HART is proud to continue to meet the needs of our customers with a fleet of buses and vans that run on a cost-effective alternative fuel that is clean, safe, more efficient and American-produced."
Trillium took over the operations and maintenance services for HART this month, and the upgrades are scheduled to begin in the coming weeks.
This is the second agreement Trillium has entered into in Florida this year. Last month, Trillium announced the Miami-Dade Board of County Commissioners awarded the company a contract to design, build and maintain two new CNG facilities for the county's bus fleet.
Trillium owns two public CNG stations in Florida, including one at 4612 50th St. in Tampa, and operates three additional private stations in the state.