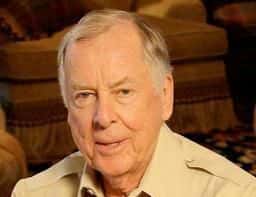 T. Boone Pickens, a co-founder and board director of Clean Energy Fuels Corp., has plans to sell up to 3 million of his shares in the company's stock and already sold almost a third of that sum as of the end of Thursday. Andrew J. Littlefair, president and CEO of Clean Energy Fuels, has released a statement stating that Pickens 'remains bullish' about the firm and natural gas.
According to Clean Energy's website, Pickens founded Pickens Fuel Corp., the predecessor company to Clean Energy, in 1997. Based in California, Clean Energy builds and operates compressed natural gas (CNG) and liquefied natural gas (LNG) fueling stations throughout North America; manufactures CNG and LNG equipment and technologies; and develops renewable natural gas production facilities.
"My co-founder, Boone Pickens, let me know that he has filed a Form 144 to sell a small portion of his overall holdings in Clean Energy, up to 3 million shares," says Littlefair, in his statement. "He emphasized that he still remains as bullish as ever on the company's future and the benefits of natural gas as a transportation fuel, validated by the growing number of vehicle fleets fueling at Clean Energy stations. Boone will continue to be our largest shareholder, an active member of the company's board of directors and a valuable energy expert for us to tap into."
On his official Twitter page, Pickens confirms Littlefair's statement, as shown below.


According to a transaction filing dated Sept. 10 on the Securities and Exchange Commission website, Pickens has sold 697,860 of his Clean Energy shares for a total of about $3.44 million over the past few days. The document indicates he still owned 17,441,860 shares of the company's stock following those transactions.
Photo courtesy of T. Boon Pickens' Twitter account