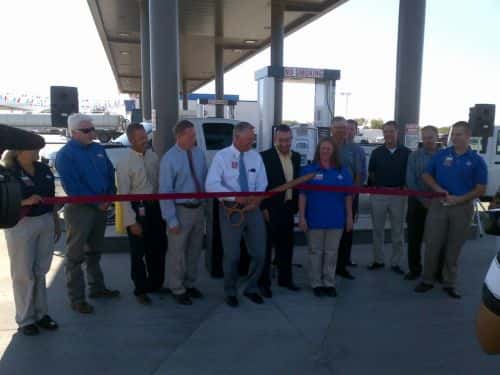 Stripes Convenience Stores recently opened its first two public-access compressed natural gas (CNG) fueling sites, both located in Midland, Texas. Stripes and partner Apache Corp. held a ribbon-cutting ceremony last week at the new 3200 E. State Highway 158 location to commemorate the company's entrance into the CNG market.
Craig Scotton, Stripes' senior director of fuel services, told NGT News that the facilities were built in order to 'meet the immediate demand being generated by vehicles owned or operated by Apache, and for the long-term anticipated growth that CNG is expected to experience.'
'Apache has two bases of operations in Midland – a field operations location with CNG vehicles used in the oil field that is adjacent to our I-20 store, and an office in town very near our Big Spring Rd. store, where they are encouraging their employees to convert their personal vehicles to CNG,' he explains.
According to Apache's Mark Bruchman, each site features two dual-hose Gilbarco Veeder-Root dispensers that yield 2.0 to 2.5 GGE/minute in capacity. The compressor packages are from ANGI Energy Systems, complemented by Xebec dryers and FIBA Technologies CNG storage tubes.
During remarks he delivered at the ribbon-cutting, company president and CEO Steve DeSutter noted that complementing its gasoline and diesel pumps with CNG 'reinforces our mission to give Stripes customers what they want at a great price in our convenient store locations.'
This week, CNG was retailing for $1.46/GGE – arguably a 'great price' relative to the current cost of diesel or gasoline.
Stripes operates 570 locations in Texas, Oklahoma and New Mexico.