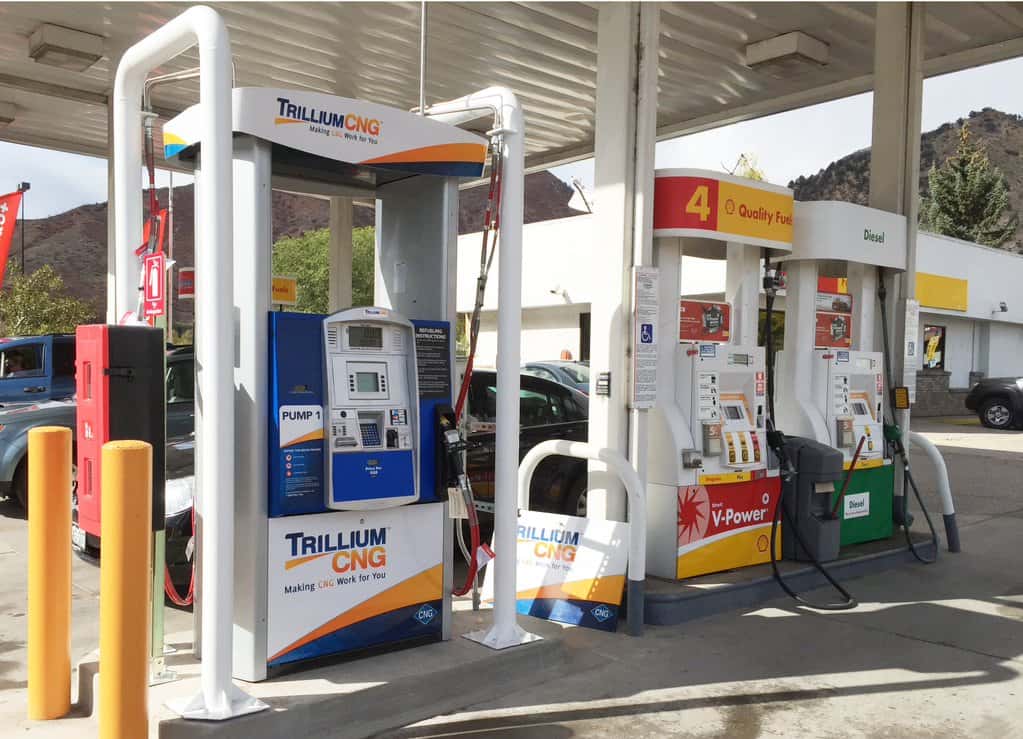 Four years in the making, a state- and municipal-funded Trillium CNG fueling station opened Friday in Glenwood Springs, Colo., co-located at the Shell West Mart.
Garfield County Commissioner Tom Jankovsky, who has been pushing for CNG fueling in Garfield County since 2011, filled up a CNG bi-fuel pickup truck from the county fleet for a ceremonial "first fill" from the new CNG pump.
"Natural gas is important to Garfield County, and the county will benefit if we can use some of this natural gas as a transportation fuel," said Jankovsky.
Glenwood Springs Chamber Ambassadors cut a ribbon on the dual-hose CNG dispenser, which is located on the outer fueling island at the Shell station, at the corner of Mel Ray Road and Highway 6, just north of I-70 Exit 114.
Aside from bi-fuel county fleet trucks, the event featured two bi-fuel CNG pickups from the White River National Forest fleet and a CNG Chevrolet Impala. Garfield Clean Energy and CLEER, which have been working with Garfield County since 2012 to expand CNG fueling in the county organized the event.
Garfield County is also home to a CNG fueling facility at the Shell station in Parachute, and another station is slated to open in 2016 at the Gilco Petroleum Park in West Rifle.
State Rep. Bob Rankin, R-Carbondale, also a long-time CNG supporter, said he expects the new Trillium station to rekindle demand for CNG vehicles.
"Colorado state government has placed a priority on the purchase of a number of CNG vehicles for years," said Rankin. "However, the lack of refill locations throughout the state has led to questionable results. This addition to the CNG availability in Glenwood Springs will lead to renewed interest by the state and other large-volume vehicle purchasers."
The station in Trillium's second CNG fueling facility in Glenwood Springs. The company, which owns and operates over 100 CNG stations nationwide, also installed the CNG fueling equipment at the Roaring Fork Transportation Authority's maintenance facility for its fleet of 24 CNG buses and two new Traveler vans.
"We're pleased to be able to bring compressed natural gas to Glenwood Springs," said Joel Jansen, vice president of Trillium CNG. "The state of Colorado has been at the forefront of the natural gas movement and clearly understands the real environmental and economic benefits CNG provides."
The $1.2 million station, which includes dual compressors, a storage tank and stainless-steel underground piping, uses natural gas from a dedicated SourceGas pipeline and electricity supplied by Glenwood Springs Electric.
It was funded, in part, by three grants: $90,000 from Garfield County, $10,000 from the City of Glenwood Springs and $442,880 from the ALT Fuels Colorado program.
ALT Fuels Colorado is a federally funded, $30 million grant program running from 2014 to 2017 that is offering grants to help build alternative fuel infrastructure and boost adoption of alt-fuel vehicles in the state. The program is a joint partnership between the Regional Air Quality Council, Colorado Department of Transportation, and Colorado Energy Office (CEO).
To date, the CEO has awarded funding to 15 CNG stations across Colorado and will seek new grant applications in early 2016. Notably, the first program-funded station opened in Pueblo in August.
"The Glenwood Springs CNG station is a critical hub that closes the gap in a regional network of CNG stations," said Wes Maurer, CEO transportation program director. "Its impact will be felt across the state, propelling the completion of a continuous path of CNG fueling options along the Interstate 70 corridor and providing new opportunities to improve commerce and trade."