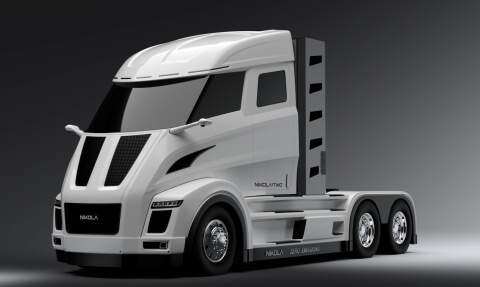 Nikola Motor Co., a U.S.-based automotive startup that focuses on electric vehicles, says it will be introducing the Nikola One and Two: Class 8 hydrogen-electric trucks featuring an innovative new commercial vehicle powertrain developed by Nikola and Bosch.
Central to the new truck platforms is Bosch's eAxle technology, which integrates the electric motor, power electronics and transmission in a single unit. The Nikola One and Two will use a dual-motor configuration to deliver more than 1,000 hp and 2,000 ft. lbs. of torque, paired with a custom-designed Nikola/Bosch fuel cell system.
"Bosch is an incubator of electromobility solutions," says Dr. Markus Heyn, member of the Bosch board of management responsible for the Commercial Vehicle Organization. "No matter whether at established OEMs or start-ups, Bosch is accelerating development and helps achieve fast breakthroughs on the market."
"We have been aggressively pursuing our goal of bringing the most advanced semi-truck ever built to market," comments Trevor Milton, Nikola's founder and CEO. "The powertrain requires an innovative and flexible partner able to adapt quickly to the speed of our team. Bosch has empowered us to come to market quickly with automotive-grade hardware and software so our vision can become a reality."
Bosch and Nikola will also jointly develop the overall powertrain system for the Nikola lineup, which will include the safety concept and vehicle electrical architecture.
The company says the Nikola One and Two will be on the market by 2021.