On Tuesday, Sparq Natural Gas; the City of Moore, Okla.; Dericks Leasing & Financial Co.; and Bauer Compressors celebrated the opening of a compressed natural gas (CNG) fueling station at the city's Public Works Department truck yard.
The Moore station – Sparq's 10th CNG station across its multi-state network and its fifth in Oklahoma – began operation in late December 2017 and will be used to refuel the city's fleet of CNG-powered refuse trucks. According to Sparq, the station comprises 12 time-fill hoses, 15 fueling spaces, two 50HP C23.10 Bauer compressors, and a Wilco natural gas storage sphere. The company says the station also features Bauer Compressors' proprietary metering technology to allow for increased site reporting and data sophistication.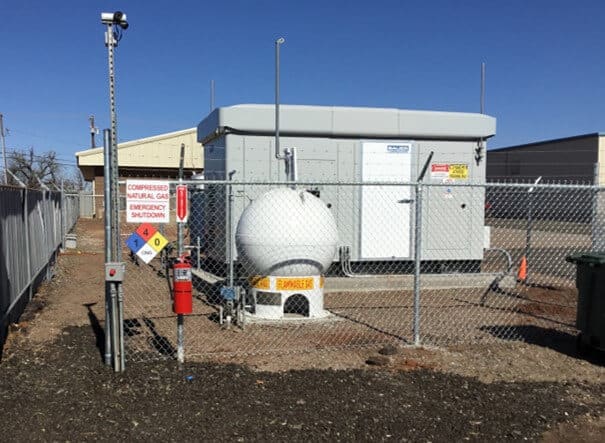 "Sparq is committed to providing Oklahoma natural gas vehicle operators a regional network of high-performing, attractive, and conveniently located CNG stations. Oklahoma's public sector can benefit from private investment in CNG infrastructure, allowing for their entry – and cost savings – into CNG fueling to be seamless," stated Sparq CEO Norman Herrera.
Moore Mayor Glenn Lewis, who has led the city's move to clean-burning natural gas sanitation trucks, noted, "Public-private partnerships exist to accelerate public-sector efficiency and allow for rapid private-sector capital deployment. Our new CNG Station complements our investment in CNG, improving our employees' quality of life, and on-time service delivery, while also bettering our air quality."
Sparq developed the site in partnership with Tulsa-based Dericks Leasing & Financial Co. and Bauer Compressors.
Richard Dericks Jr., a principal at Dericks Leasing & Financial Co., said, "Investing in infrastructure to improve people's livelihoods is the best kind of investment. We are supporting jobs, the environment and the city of Moore." He continued, "We are extremely proud to continue making strategic public-private investments like this across our home state of Oklahoma."
"We are excited to again partner with Sparq to introduce our M-Series compressor design to Oklahoma," said Bauer Compressors President Tony Bayat. "Sparq provided an aggressive project schedule to meet the city's CNG fueling needs in 2017, and Bauer responded with a compressor solution that can be replicated across the region. With Bauer's proprietary OEM gas metering technology, Sparq will have reporting and functionality at their fingertips."
Photos courtesy of Sparq Natural Gas