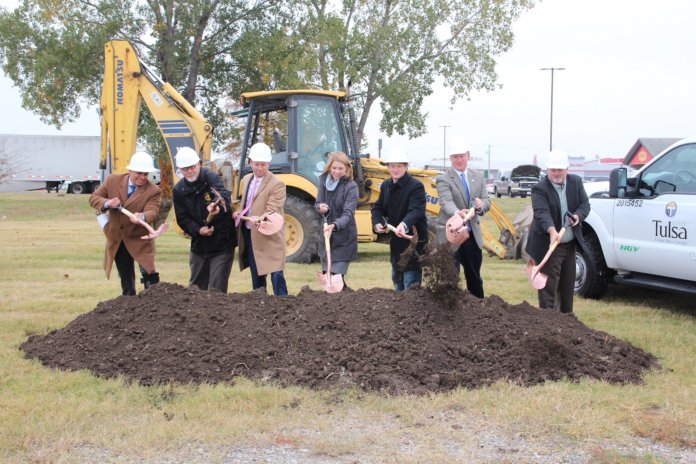 On Tuesday, Sparq Natural Gas, Timmons Oil Co., Dericks Leasing & Financial Co., and J-W Power officially broke ground on a public-access compressed natural gas (CNG) fueling station in Tulsa, Okla.
According to Sparq, the station will feature the installation of J-W Power's PowerFill technology, a patented compressor designed with heavy-duty trucks in mind, to speed up the fueling process.
The Tulsa station marks Sparq's 10th CNG station across its multi-state network and the company's fifth in Oklahoma. Construction will begin immediately, with a target to open the station by the end of this year. Sparq is developing the site in partnership with Tulsa-based Dericks Leasing & Financial Co. and Timmons Oil Co., co-locating CNG operations at Timmons' headquarters for convenient and accessible Class-8 heavy-duty fueling.
"Sparq is committed to providing Oklahoma natural gas vehicle operators a regional network of high-performing, attractive, and conveniently located CNG stations. CNG offers fleets and consumers a lower price at the fuel pump while burning a cleaner, Oklahoma-produced fuel," stated Sparq CEO Norman Herrera.
In line with the Oklahoma First Energy Plan, this station provides a critical link in the build-out of alternative fuel corridors of natural gas stations across Oklahoma and is strategically located along the I-44 "CNG Corridor," linking St. Louis and Dallas, according to Sparq.
Oklahoma Secretary of Energy and Environment Michael Teague, who spearheads the state's energy programs, noted, "Expanding the use of natural gas fueling infrastructure is a great example of how we can use Oklahoma's tremendous natural resources to both promote our energy industry and improve our air quality."
"This project is about connecting opportunities," said Todd Collier, senior vice president for station host Timmons Oil Co. "Soon, Sparq Tulsa will join an integrated network of CNG stations across Oklahoma. Our site will provide a clean transportation option for heavy-duty trucks needing a convenient destination to serve their fast-filling, high-performance, needs – a key objective in the trucking business."
Richard Dericks Jr., a principal at Dericks Leasing & Financial Co., said, "This is our largest investment in CNG infrastructure in the company's 33 years in business." He continued, "We are extremely proud to make such a large clean-burning fuel investment in our hometown of Tulsa. With a positive business climate and experienced partners, we believe we can deploy our targeted venture capital to meet the fueling needs of current and future CNG vehicles in an unparalleled manner."
"We are excited to partner with Sparq to introduce our new PowerFill design," said J-W Power Co. Vice President of Sales James Barr. "The PowerFill technology increases flow rates without increasing horsepower and significantly increases the use of on-site storage – particularly when combined with Sparq's massive investment in CNG storage – and enhances the customer experience."
According to Sparq, the Tusla station will include two 150 hp J-W PowerFill compressors; CP Industries natural gas storage equipment; two high-flow, heavy-duty CNG nozzles; and two light-duty CNG nozzles.