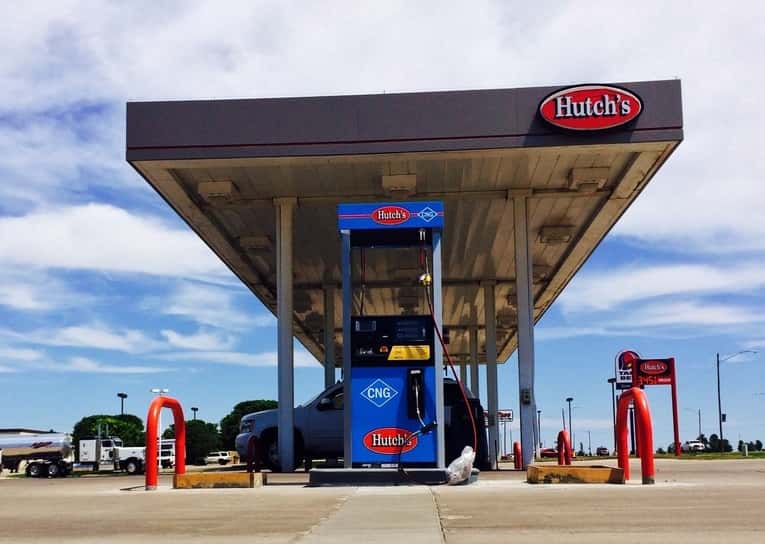 Hutchinson Oil Co. and its partners, Sparq Natural Gas LLC and Black Hills Energy, have debuted new compressed natural gas (CNG) refueling capacity at a Hutch's convenience store in Liberal, Kan.
Hutchinson Oil, the owner and operator of the Hutch's chain of c-stores, first announced the enhancements to the location – at 1580 N. Kansas Ave. – back in January. The company already had a pair of CNG refueling sites in Oklahoma in Woodward and Elk City, and the Liberal site represents Hitch's first CNG capacity across state borders.
Sparq CEO Norman Herrera was in the natural gas vehicle market development team at Chesapeake Energy Corp. when Hutch's sought Chesapeake's assistance to bolster the CNG footprint in Elk City. When Herrera moved to Sparq, he and his new team circled back to Liberal, which had been on Hutch's list of potential CNG sites.
For the Liberal facility, Sparq handled services such as engaging with potential CNG customers in the area and building the c-store's CNG client base. Sparq also coordinated bi-monthly town-hall meetings with the Liberal Chamber of Commerce and local stakeholders, as well as worked with the local fire marshal on applicable codes and compliance.
Black Hills Energy is the local natural gas utility. Hutchinson Oil spearheaded the development and construction of the CNG refueling infrastructure, which includes equipment such as a 125-hp Greenfield/Atlas Copco compressor and Wayne dispenser. With a three-pack of 24-ft CNG storage vessels on site, the setup offers a fueling rate of 3-5 GGE/min, Herrera told NGT News.