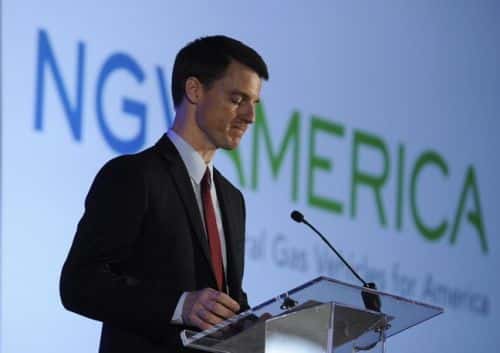 The opening plenary session at last week's North American NGV Conference and Expo in Kansas City offered a glimpse of where the natural gas vehicle market stands today and where it is headed. While industry leaders admitted that there were still challenges to advancing further growth in the North American market, they made it clear that the future is looking bright. However, they said, it will take significant collaboration from key players – which, in turn, is leading to what they called 'harmonization.'
When Matthew Godlewski, president of NGVAmerica, and Alicia Milner, president of the Canadian NGV Alliance, took the floor to discuss what's going on in the NGV market today, harmony was a concept they both stressed. Advancing natural gas as a transportation fuel will require harmonization within the sectors of not only the industry itself, Milner explained, but also on a broader level: between countries and between national and state governments.
According to Godlewski, collaboration in the industry itself happens when, for example, original equipment manufacturers respond to spiking customer demand for natural gas. He believes a 'customer-centric approach is fundamental' to driving market growth.
He called Cummins Westport's launch of its 11.9-liter natural gas engine – the ISX12 G, which can run on both CNG and LNG – a 'landmark' for the industry. Since it came to the market last year, a number of customers – including major heavy-duty truck OEMs such as Kenworth, Peterbilt and Freightliner – have adopted the technology.
Collaboration in the natural gas industry goes beyond just the on-road vehicle sector, as discussed by both Godlewski and Milner. For marine applications, Milner said, there has been extensive progress in the past few years.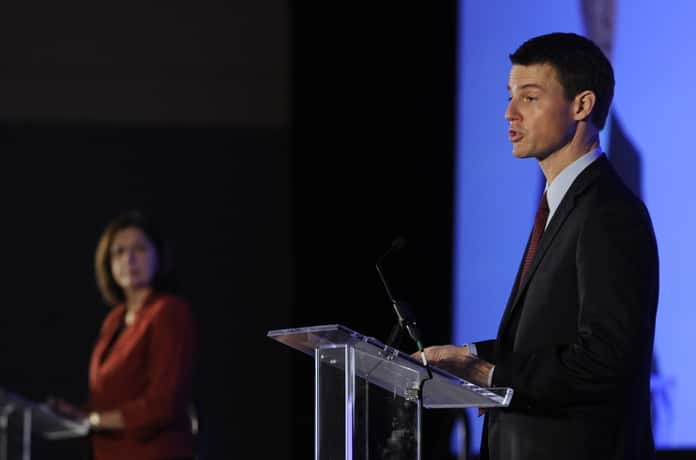 Both the U.S. and Canada have adopted environmental standards for the marine sector, including a 90% reduction in ships' sulfur emissions – a regulation that will start in January. To meet these requirements, Godlewski explained, vessel owners will increasingly switch to LNG: 'a powerful opportunity for natural gas.'
New Orleans-based marine transportation company Harvey Gulf International Marine, for example, has adopted LNG, and an LNG passenger ferry will be making its mark in Canada by next March, he said.
While many more marine fleets will continue embracing LNG, it will likely have what Milner called a 'trickle' effect on other transportation sectors looking to adopt natural gas, such as on-road vehicles. Earlier this year, through a report assessing the benefits of LNG as a marine fuel in Canada, Milner called adopting LNG in the marine sector a 'smart and strategic' move.
Beyond industry harmonization, Godlewski and Milner discussed country-to-country harmonization, which is represented in and of itself by the two, whose organizations – from the U.S. and Canada, respectively – are co-hosting this event.
The two nations' ongoing efforts to further the industry, Godlewski remarked, were demonstrated by a major deal that happened only a few weeks ago: C.A.T. Inc., which is a heavy-duty carrier headquartered in Quebec, inked a deal with Ryder System Inc. for the lease of 100 CNG vehicles.
The sleeper tractors, which will take international journeys from Montreal to Texas to deliver goods to various companies, will represent a third of C.A.T.'s entire fleet of 325 vehicles. It is also the biggest NGV lease deal that Ryder has ever inked, as well as its first in Canada.
Not only that, Godlewski noted, but the partnership also represents another milestone: the first north-south trucking project in North America. When it comes to opportunities and roadblocks for advancing NGVs, Milner believes the U.S. and Canada have much in common. Natural gas for transportation, she said, is 'something both countries put on the table.'
Milner also brought up harmonization on the governmental side. On the public policy front, Godlewski explained, there is 'good momentum' on the state level, with new tax credits for alternative fuel vehicles increasingly being introduced.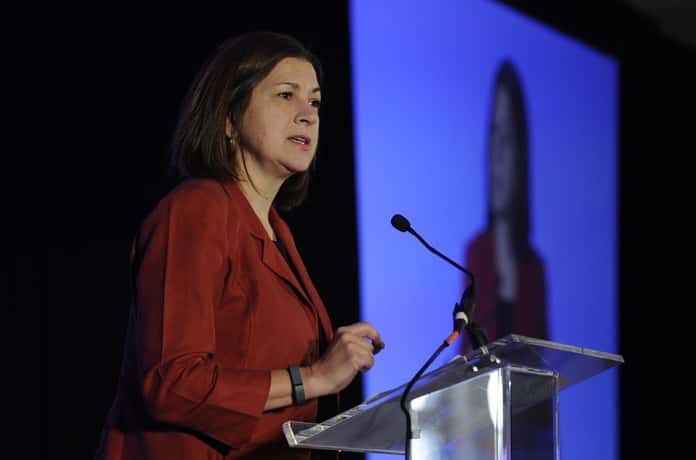 Take Georgia, for example, which earlier this year came up with a program that offers a credit of up to $12,000 for medium-duty vehicles and $20,000 for heavy-duty vehicles that operate on alternative fuels or electricity. Among NGVAmerica's extensive participation and push for natural gas will be working with state governments for more incentive programs in 2015, he said, and leading the natural gas industry 'with a renewed sense of purpose and direction.'
As for Canada, Milner said, there is 'tremendous leadership' from British Columbia and Quebec, in particular, where both provinces are backing emissions reductions and helping to kickstart long-term policy objectives for the country.
To continue the solid momentum, Godlewski advised, industry participants must 'continue to be engaged.' As more people come on board with natural gas as a transportation fuel, the level of knowledge for the technology will continue to increase, he explained. After all, it is 'innovation that will lead the way.'
As more major, well-known fleets – such as UPS and Frito-Lay – make the switch to natural gas, the 'transformation in the transportation sector' will continue to take place, Milner said.
Godlewski noted that there is, of course, progress to be made in some areas, including economics, infrastructure and policy support, but 'the road ahead is full of opportunity and growth.'
'We can all agree,' he said, 'that we are well-positioned for the future.'