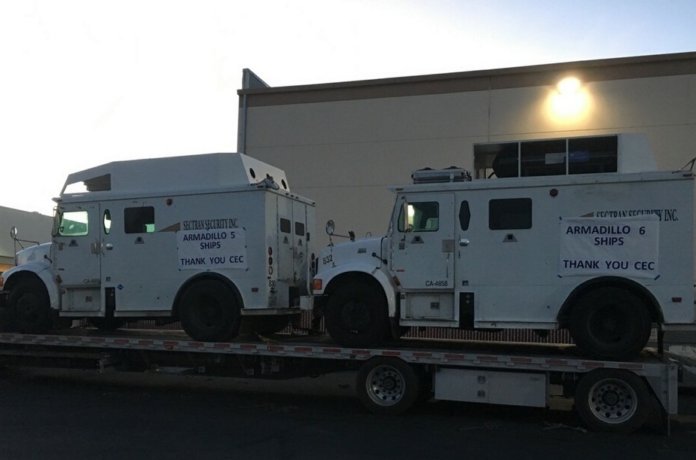 Efficient Drivetrains Inc. (EDI), a provider of zero-emissions hybrid and electric vehicle (EV) drivetrain solutions, has announced the completion of a California Energy Commission (CEC) program to integrate the EDI PowerDrive 6000 into a fleet of six International-branded Class 6 armored trucks.
The result is a plug-in hybrid electric vehicle (PHEV) with a renewable natural gas (RNG) range extension. The collaboration with the CEC supports California's rapid acceleration toward a zero-emissions environment, EDI notes.
Sectran Security's armored vehicles make frequent stops as part of their highly congested city routes in Southern California. At each stop, engines are kept idling for security purposes, but they now risk violating California's strict diesel idling regulations, which prohibit idling the engine for more than five minutes. With the modernized PHEVs, however, engine idling is eliminated entirely by operating in all-electric mode during stop-and-go operations and in hybrid mode using RNG during highway operations.
The six 26,000-pound, medium-duty vehicles enable Sectran to reduce annual diesel consumption by more than 31,000 gallons, significantly reducing annual fuel costs and cutting emissions by up to 99.9%.
The EDI PowerDrive 6000 has been durability-tested over 3.8 million miles in a commercial fleet setting of city buses and has been deployed across major North American OEMs, including International, Freightliner and Peterbilt.
The vehicle program is a collaboration between Efficient Drivetrains and North American Repower, and it includes funding from the CEC, which approved a $3 million grant award from its Energy Research and Development Division.
"The California Energy Commission continues to lead the nation in driving adoption of zero-emissions technologies," comments Joerg Ferchau, CEO of Efficient Drivetrains. "Programs like these have been essential in helping accelerate widespread fleet acceptance of diesel alternatives. EDI has proudly partnered with the CEC on several programs, and we look forward to our upcoming collaborations to extend zero-emissions capabilities into port and agriculture applications. For fleets looking to comply with emissions-reduction requirements, EDI's high-efficiency PHEV and EV solutions enable immediate fleet compliance with the added benefit of significantly reduced fuel costs and expected full vehicle performance."