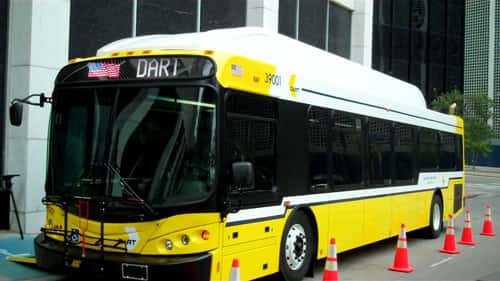 NGVAmerica says the Biden administration has awarded more than $230 million to compressed natural gas (CNG) transit bus projects, with another $44 million being granted to transit agency projects that feature at least a portion of CNG bus and refueling infrastructure deployment.
The funding is part of a larger announcement made this week by the Federal Transit Administration's Low- and No-Emission Grant Award program.
Among the notable awards:
Sun Tran, Tucson, Ariz. – $21.49 million;
Dallas Area Rapid Transit – $103 million;
Metropolitan Transit Authority of Harris County, Texas – $40.4 million;
Utah Transit Authority – $17 million;
Loudon County, Va. – $14 million
The funding is for new CNG buses, fueling infrastructure and associated maintenance facility improvements.
NGVAmerica notes that natural gas buses offer the most cost-effective emission reduction investment; operators can affordably achieve carbon-negative transit by refueling with renewable natural gas (RNG).
Prior to 2021, FTA did not fully consider low-emission natural gas transit bus applications in the competitive Low-No Grant Program. Through its advocacy work, NGVAmerica secured language in two fiscal year conference agreements that "directs the FTA to implement 49 U.S.C. 5339(c) in a manner that encourages a variety of different fuel types and consider procurements that reduce an agency's overall greenhouse gas emissions."
The full list of awardees can be found here.