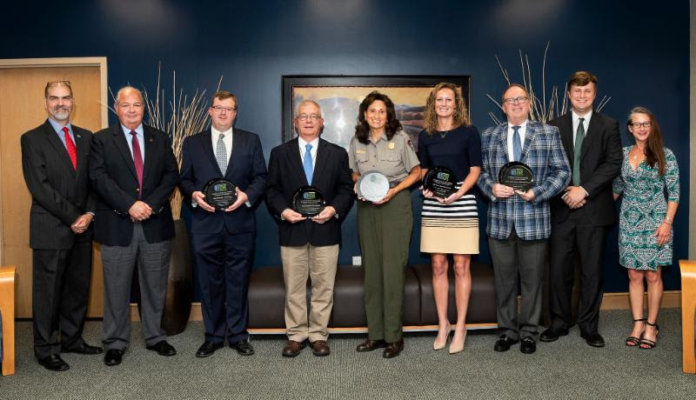 Tennessee Clean Fuels (TNCleanFuels) recently inducted six new fleets into the Tennessee Green Fleets Certification Program.
The Tennessee Green Fleets Certification Program, developed by Middle-West and East Tennessee Clean Fuels, uses performance-based metrics to analyze fleets' vehicle and fuel-use data and compare new actions they have taken to what their footprint would have looked like without those actions. The program encompasses all fuel and technology options, including biodiesel, natural gas, propane, electric, ethanol and hybrid; fuel economy strategies such as idle reduction, car share, vanpooling and truck stop electrification; and non-automotive forms of transportation, including bicycles and shooters.
Fleets that receive certification can promote their greening efforts and include the certification status in their sustainability portfolio information.
TNGreenFleets says the six newly certified fleets prevent a combined 575 tons of CO2 emissions from being released into the atmosphere annually:
Greater Dickson Gas Authority: Sixteen vehicles, representing 24% of their fleet, run on either compressed natural gas (CNG) or propane autogas. GDGA also operates a public CNG station in Dickson.  (CO2 reduction: 19.4 tons/year)
WeGo Public Transit / Downtown Nashville Service – WeGo currently runs nine electric transit Proterra buses that are in use in downtown Nashville; one bus serves as a backup as needed. (CO2 reduction: 471.4 tons/year)
Athens Utilities Board / Natural Gas Division – Nine of AUB's 21 vehicles in the gas division are natural gas, representing 43% of the division's fleet. AUB also maintains one of the longest-serving public CNG stations in the east Tennessee area. (CO2 reduction: 8.9 tons/year)
Great Smoky Mountains National Park: They started using biodiesel in their zero-turn mowers as B20 in 2004. They unveiled their propane autogas program in 2014 and now have six propane work trucks and five propane zero-turn mowers. (CO2 reduction: 50.7 tons/year)
NET Trans / Carter County Fleet: Through their partnership with Alliance AutoGas (AAG), NET Trans has developed plans to transition many vehicles across their service area in northeast Tennessee. They have also worked with AAG on Greene County's first public propane autogas refueling station. NET Trans uses propane autogas in six Ford Transits that serve several counties out of their Elizabethton domicile site. (CO2 reduction: 15.7 tons/year)
City of Knoxville / Mower Fleet: The city began investigating a switch to propane autogas mowers in 2014. Since then, the city has converted its first two mowers in 2015, adding nine more Kubota OEM propane mowers in 2016 and another six Ferris mowers in 2017. In total, 19 – exactly half – of the city's zero-turn fleet runs on propane. They also began a test run with renewable diesel in 2017.
The fleets were recognized at the University of Tennessee, Knoxville during the fourth annual Sustainable Transportation Forum & Expo, which is managed by the Tennessee Department of Environment and Conservation, the Tennessee Department of Transportation and TNCleanFuels.