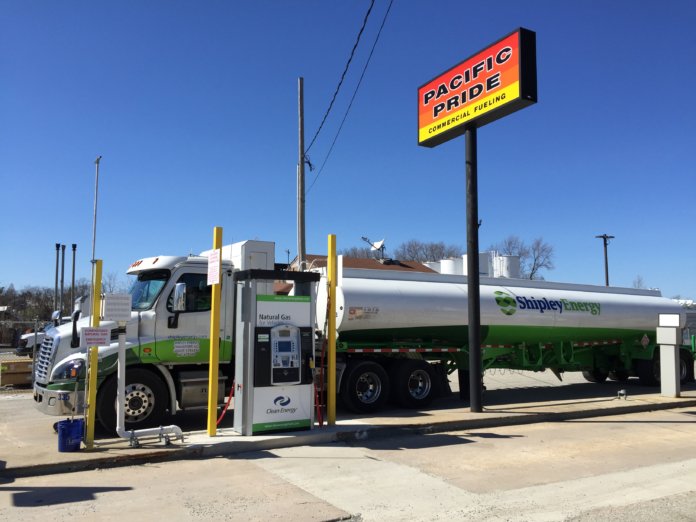 York, Pa.-based Shipley Energy has announced that the first public compressed natural gas (CNG) fueling station in York County is now operational and open for business.
According to the company, the station will dispense CNG to Shipley vehicles and help meet growing demand for the alternative fuel in south-central Pennsylvania as major freight companies across the country continue to expand the number of natural gas vehicles (NGVs) in their fleets.
The station, designed and built by Clean Energy, is located at the Pacific Pride fueling station at 714 Loucks Mill Rd. and is available to the public 24/7. As reported, the new station will fill a gap in CNG services in the York area.
According to Shipley, the new CNG portion of the station is able to fuel two CNG vehicles at a time, taking between 4 and 15 minutes, depending on the size of the vehicle.
"Commercial fleets are rapidly expanding their use of CNG as technology improves, since it offers a clean, cost-efficient alternative to diesel and gasoline," says Matt Sommer, Shipley's president. "Shipley Energy prides itself on being at the forefront of fuel advances and providing new technology for our customers."
"Growing our network of stations is a large part of our core business, and partnering with energy providers like Shipley Energy combines that network with a growing customer base," says Andrew J. Littlefair, president and CEO of Clean Energy. "We completed 62 of these types of construction projects last year, and we're planning on having another strong year in 2017."
Shipley says that companies, including FedEx and Frito Lay, that already use NGVs and have existing national accounts with Clean Energy will be among the most frequent users of the new dispenser, but refueling services will be available to anyone with a compatible vehicle.
Shipley notes that it recently added five dedicated CNG Class 8 trucks to its fleet and plans to add more in the future.