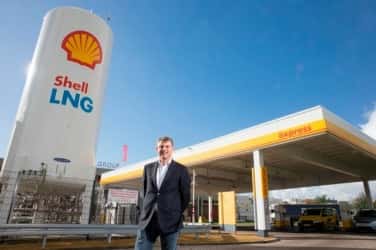 Shell has opened its third liquefied natural gas (LNG) truck refueling station in the Netherlands. Located in the western port area of Amsterdam, the new station follows the official opening of Shell's first two stations in the country – in Rotterdam and Waalwijk – earlier this year.
Shell says the Amsterdam station has a capacity of 70,000 liters of LNG, enough to fuel around 200 trucks per day.
'I am excited by the progress we have made, in a short time, developing a LNG refueling network in the Netherlands with the opening of this new station,' comments Giorgio Delpiano, general manager for Shell's euroShell business. "We believe LNG is a viable fuel option for heavy-duty truck fleet owners – today."
Lauran Wetemans, Shell's general manager of downstream LNG, adds, "We expect LNG will form a bigger part of the sustainable transport fuel mix in the future. Shell continues to work together with engine manufacturers, customers and policy makers to strengthen the business case for the use of LNG fuel in transport. As customer demand grows, we plan to open additional LNG sites in the Netherlands."
In the U.S., Shell has been working with TravelCenters of America LLC to develop a network of LNG refueling lanes for heavy-duty road transport customers along the interstate highway system. The first of these LNG stations was opened in May 2014 in Ontario, Calif. This was followed by four more station openings this year; three stations are located within the Texas Triangle in Baytown, San Antonio and Dallas, and one is located in Lafayette, La.