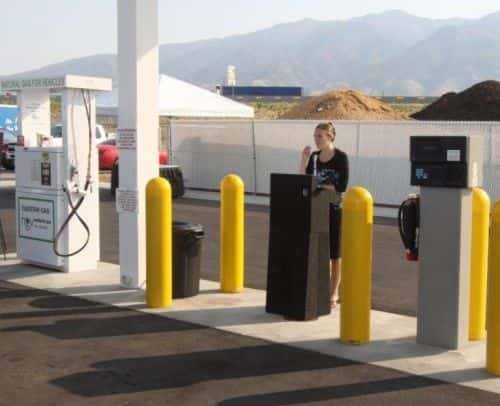 A number of fueling specialists and fleets cut ribbons on compressed natural gas (CNG) stations over the past couple of weeks, bolstering the complement of alternative fuel infrastructure in many areas of the U.S.
In Utah, which is already a leader in CNG refueling, a new Questar Gas CNG station came online in Kaysville on Sept. 20. This site is one of nearly two dozen that have been supported by federal stimulus funds – and administered by the Utah Clean Cities Coalition – since 2009.
The new public-access station – of which there are now 35 in Utah – is located at 80 North 600 West. Judd Cook, director of business development for Questar Fueling, tells NGT News that the facility was constructed without an anchor fleet standing by to absorb the majority of the supply. The natural gas vehicle (NGV) sector in Utah, he explains, is sufficiently mature to make securing a single key customer generally unnecessary.
The CNG station in Kaysville features two dispensers with two hoses each – a pair pumping at 3,000 psi (to accommodate older NGV conversions, which use a lower operating pressure) and the others at 3,600 psi. A 400 cfm compressor yields approximately 200 gallons/hour.
Down in Tucson, Ariz., the city's third CNG refueling facility opened at the headquarters of beer distributor Golden Eagle Distributors, which already has 23 heavy-duty NGVs in its fleet. This public station is located at 705 E. Ajo Way.
Trillium CNG built the facility, and Ryder System Inc. is Golden Eagle's partner in rolling out NGVs. The distributor is planning on adding more CNG trucks to its Casa Grande-based fleet.
Trillium CNG also wrapped up a project in Wisconsin – which was commemorated last Friday – that is tailored to Class 8 trucks running through the central part of the state. This station, at the Riser BP Station and Travel Center in Rib Mountain on I-39, will give heavy-duty haulers access to CNG as they travel the north-south route.
In Illinois, ready-mix concrete company Ozinga Bros. dedicated its new CNG refueling facility, which will also be open to commercial and municipal fleets. The station is located at 2222 S. Lumber St. in Chicago
The company's Tim Ozinga says the facility features 30 time-fill endpoints, a fast-fill dual pump and fast-fill capabilities directly from the compressor. Ozinga Bros. intends to build other CNG stations – perhaps public-access sites – in greater Chicago in the future.
The company is pursuing an aggressive switch to CNG, eyeing the incremental conversion of its entire 500-vehicle fleet by 2020. Ozinga Bros. has already deployed 30 concrete mixer trucks (Kenworth W900S trucks fitted with McNeilus mixers and the Cummins Westport 8.9-liter ISL G), as well as a Honda Civic CNG and a few CNG dual-fuel trucks.
Also, Lehigh Gas Corp. has added a CNG pump to an existing location outside of Philadelphia, at the Baltimore Pike Exxon station in Concordville.
This is just the first in a number of planned endpoints, according to the company, which owns about 600 gasoline stations and convenience stores. Another Lehigh CNG pump is scheduled to come online in South Whitehall by the end of the year, followed by a unit in King of Prussia.
Lehigh's new CNG infrastructure project comes on the heels of another grand opening in Pennsylvania: a Clean Energy Fuels public-access station in Fairless Hills. Clean Energy is also on schedule to open a CNG facility at the Philadelphia International Airport by the end of the month.
Another CNG station developer, Nopetro, has finished the first project in a planned network of refueling sites in the Southeast. This new Tallahassee facility will mainly serve the Leon County School District, which is in the midst of converting its diesel school buses to CNG. The district has already deployed 44 NGVs in its fleet, which numbers just over 200 units.
The City of Tallahassee has eight CNG-powered refuse trucks so far, Florida State University is adopting NGVs, and Leon County's government fleet is converting vehicles to CNG. These entities will all have easy access to the new Nopetro-designed fast-fill facility, which company CEO and co-founder Jorge Herrera says features six fueling lanes (via three pumps) that are capable of delivering 15 to 20 gallons/minute.
The company says it is planing to add 18 stations to its network over the next three years. Most of these facilities will be in Florida, but stations in Atlanta, Macon and Savannah, Ga., are also being eyed.
Photo: Irene Rizza, communications and northern coordinator for the Utah Clean Cities Coalition, addresses the attendees of a CNG station opening in Kaysville, Utah. Photo courtesy of the Utah Clean Cities Coalition.