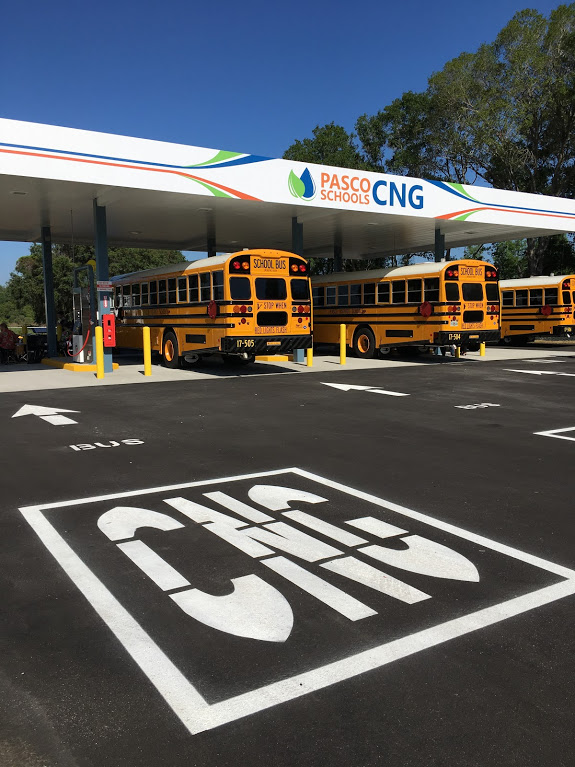 Pasco County Schools in Florida and its partners have opened a school district-owned and -operated compressed natural gas fast-fill station to fuel the 65 CNG buses the district will have by the end of the 2017-2018 school year.
At the ribbon-cutting event on Tuesday, Superintendent Kurt Browning, School Board Chairman Allen Altman, Florida Sen. Wilton Simpson, County Commission Chairman Mike Moore, and Deputy Superintendent Ray Gadd were joined by project partners Anddrikk Frazier, president and CEO of Integral Energy, and Clearwater Gas Managing Director and Executive Officer Chuck Warrington in celebrating this milestone.
According to Pasco County Schools, the CNG station is capable of dispensing more than 10,500 gasoline gallon equivalents per day. All of the compression equipment was manufactured in the U.S., and the station will be able to fuel a bus in three minutes.
The district notes that each CNG bus will reduce CO2 emissions by nearly 20,000 pounds annually. Compared with the current clean diesel buses, these buses produce 13% less greenhouse gas, 95% less nitrogen oxide and 80% less hydrocarbon.
In 2013, the district began purchasing propane-powered buses and liquefied propane gas fueling stations, which now serve east Pasco. As reported, the district's use of propane has resulted in 20% less nitrogen oxide, 60% less carbon monoxide and 24% fewer greenhouse-gas emissions.
In addition to the filling station, the district also is opening a new bus compound at the site, located at 13101 Interlaken Rd. in Odessa. Just like the new station, the garage is specially designed to service the CNG buses. It is scheduled to be fully operational by July and will accommodate up to 90 buses.
"We are proud of how far we have come in just a few short years," says Altman. "We couldn't have done it without great partnerships and the talented, dedicated staff of our construction services, transportation services and planning departments."