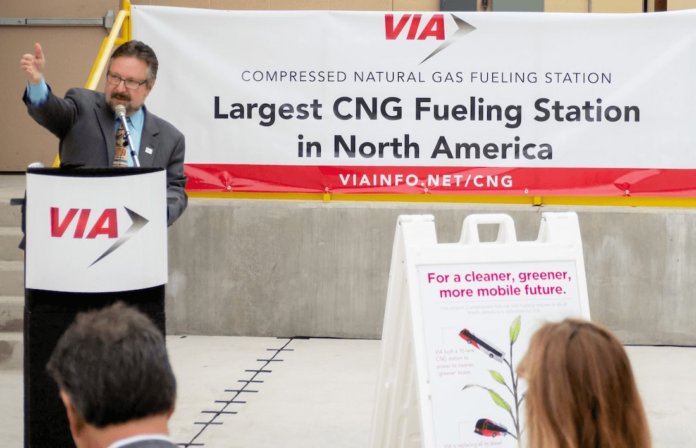 VIA Metropolitan Transit officially dedicated its new compressed natural gas (CNG) fueling station on April 18 at the regional transit agency's San Antonio campus.
Guests at Wednesday's dedication ceremony got a first look inside the 10,980-square-foot compressor compound that stands as the largest in North America, claims VIA. The facility's dedication is meant to commemorate VIA's first full year of CNG bus service and raise awareness of Ozone Action Season in San Antonio.
Located on 1720 N. Flores St., the 10-lane station began operating in 2017 to support the first of VIA's new CNG-powered fleet that debuted in observance of Earth Day. VIA's full fleet conversion will be complete in 2025. To date, more than half of VIA's diesel revenue vehicles have been replaced with CNG buses.
VIA says its CNG program is part of a multiyear, community-driven plan to build a better bus system while significantly reducing vehicle emissions, decreasing operating costs and planning service enhancements. Once complete, the transformed fleet will bring a 97% reduction of nitrogen oxide emissions. The annual fuel cost savings are estimated at $8.5 million, and the maintenance savings over a five-year period are estimated at $2 million.
The Alamo Area Council of Governments recognized VIA's efforts this month with an Air Quality Stewardship Award for taking action to improve air quality and serve as a "beacon to other businesses, agencies and organizations in the region."
Trillium CNG, part of the Love's Family of Companies, was contracted in 2016 to design and build the CNG facility. The new station includes the addition of 10 CNG dispensers operated by seven 700-horsepower compressors with a total flow rate of more than 85 gallons per minute. The existing dispensers – 10 diesel fuel and six propane – will be phased out once the conversion to CNG is complete. VIA's new CNG buses are manufactured by Nova and have a 67-passenger capacity. The contract with Nova Bus calls for the delivery of 425 vehicles over a five-year period.