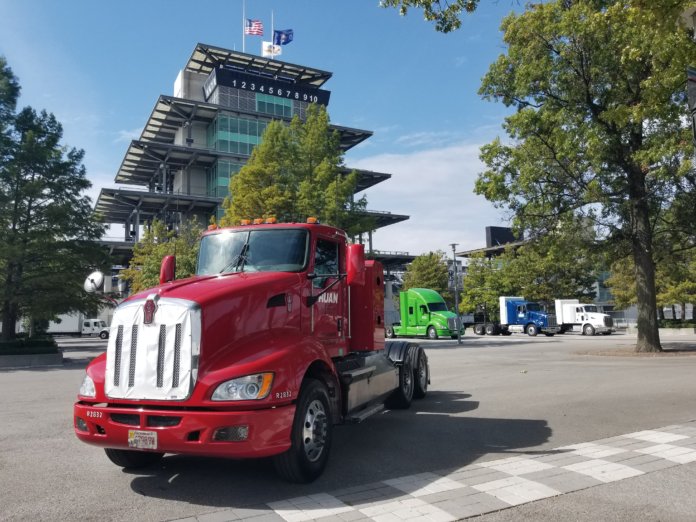 A 2014 Kenworth T660 compressed natural gas (CNG)-powered class 8 tractor operated by Ruan Transportation Management Systems has reached the milestone of 1 million miles in service.
Ruan says the vehicle, which is part of a fleet of 40 tractors domiciled at the company's operation in Fair Oaks, Ind., has experienced no major maintenance issues over its operating life. These vehicles pull 80,000 GVW loads of milk primarily from Fair Oaks to Southern Indiana.
"Ruan's fleet travels approximately 29,000 miles per day, which is farther than the circumference of the Earth. It is no small accomplishment to keep a unit in service for 1 million miles. Our safe drivers and skilled technicians deserve the credit for this milestone. Extending the life of our fleet reduces our overhead costs, and those savings are passed on to our customers," says James Cade, Ruan's vice president of fleet services.
The fuel for this operation is primarily renewable natural gas (RNG) sourced from anaerobically digested cattle manure. This allows a waste product to be used to transport customers' for-profit product. Including a predecessor 9-liter fleet, vehicles in this operation have run approximately 50 million miles in total, representing nearly 7.5 million gallons of diesel not consumed. Ruan says this represents nearly 80,000 tons of CO2, the equivalent of taking nearly 12,000 average cars off the road for a year in terms of CO2 emissions.
"Ruan has been committed to employing strategic fuel conservation measures to control costs and protect the environment," says Steve Larsen, the company's director of procurement and fuel. "Using CNG and RNG greatly reduces the amount of diesel fuel used in our operations. Our team is committed to using these alternatives whenever possible."
The fleet is currently being refurbished and is projected to travel upwards of 1.5 million miles per vehicle before retirement. The refurbishment consists of the following broad categories: in-frame engine overhaul, transmission, body polish and in-cab items such as A/C, radio and drivers' seats. Throughout the lifetime of the tractor, maintenance has been performed by Ruan technicians and trusted vendors. Ruan says recycling the truck for an even longer life cycle saves emissions associated with production of a new truck – preventing raw materials harvesting and consumption plus electricity and other resources used in the manufacturing process.
Ruan is an official partner in the U.S. Environmental Protection Agency's SmartWay Transport Partnership, a collaboration between the EPA and the freight industry designed to increase energy efficiency while significantly reducing greenhouse gases and air pollution. Ruan notes it is a three-time recipient of the SmartWay Excellence Award from the EPA as an industry leader in freight supply chain energy efficiency.