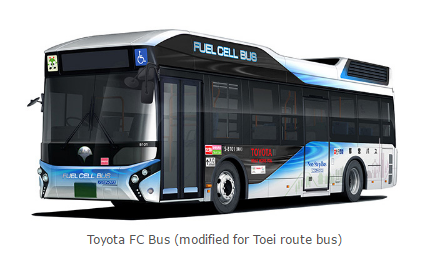 Toyota Motor Corp. says it has officially delivered the first fuel cell (FC) bus sold under the Toyota brand to the Bureau of Transportation of the Tokyo Metropolitan Government.
According to the automaker, this FC bus will be put into operation as a Toei route bus in March, along with a second bus that is scheduled for delivery in the same month.
As previously reported, Toyota plans to introduce over 100 FC buses mainly within the Tokyo area ahead of the Tokyo 2020 Olympic and Paralympic Games. The increased use of FC buses in urban areas is expected to help raise the level of understanding by the general public regarding the use of FC buses as a form of public transportation.
The Toyota Fuel Cell System, which was developed for the Mirai fuel cell vehicle, has been adopted to provide better energy efficiency in comparison with internal combustion engines, as well as to deliver superior environmental performance, with no CO2 emissions or substances of concern emitted when driving.
The company says the bus also uses a high-capacity external power supply system. With a power supply capable of a 9 kW3 maximum output, and a large capacity of electricity supply at 235 kWh4, the FC bus can be used as a power source in the event of disasters, such as at evacuation sites, or its electricity supply can also be harnessed for home electric appliance use.
Development and demonstration tests of the Toyota FC Bus were conducted under the Next-Generation Energy and Social Systems Demonstration Project of the Ministry of Economy, Trade and Industry and the Low Carbon Technology Research and Development Program under the Ministry of Environment. It was then introduced under the program for promoting low carbonization of local transportation of the Ministry of Land, Infrastructure, Transport and Tourism.
Toyota says it continues engaging in the technological and product development of FC buses and fuel cell forklifts, as well as stationary fuel cells for use in homes. Going forward, the group intends to accelerate developments to contribute to the realization of a hydrogen-based society.