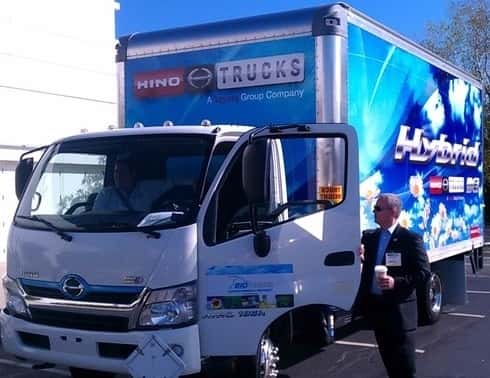 Options abound for fleets considering the deployment of alternative fuel and advanced vehicles, ranging from pure-electric Segways for law enforcement to natural gas big rigs traveling interstates. Interestingly enough, that variety presents a key challenge: Where does a fleet turn?
The recent Green Fleet Conference in Schaumburg, Ill., afforded NGT News the opportunity to examine a few of those options during a ride-and-drive program that featured dozens of vehicles from a number of OEMs and conversion specialists. A central takeaway was that pairings between fuel types and end-use applications are numerous, reflecting a growing maturity in the market.
For instance, we drove three vehicles: a compressed natural gas (CNG) bi-fuel pickup truck, a propane autogas shuttle van, and a medium-duty diesel-electric hybrid truck. However, combinations of virtually all of the preceding – and more – are available to fleets.
The CNG bi-fuel truck we tested is a Ford F-250 from BAF Technologies, a Ford Qualified Vehicle Modifier that has been working in the alt-fuel space for 20 years. Our vehicle featured the OEM 35-gallon gasoline tank, two 5 GGE (gasoline gallon equivalent) CNG tanks in the truck bed and two 10 GGE tanks under the body. This under-body tank configuration is unique to BAF and certainly beneficial to fleets that demand all eight feet of an eight-foot bed.
Our ride was short that day. However, if we desired, the F-250 could have taken us more than 750 miles away from Schaumburg, thanks to that extended-range set-up. Moreover, if we plotted our course correctly to hit all available CNG refueling facilities, we could have gone coast to coast and back again without burning a drop of gasoline.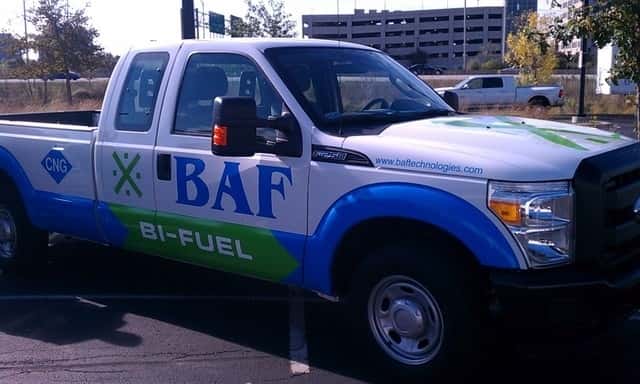 The 6.2-liter V8 put plenty of pep at the accelerator, whether running on CNG or gasoline. We were able to flip a switch and toggle seamlessly between the two fuel types, with scarcely a hiccup in the truck's performance. In short, we were none the wiser that CNG was powering that big block.
Much the same can be said for the ROUSH CleanTech propane autogas van (GVWR less than 9,500 lbs.) we tested. The Ford E-350 featured the 5.4-liter V8 engine powered by liquid autogas and a four-speed transmission. ROUSH CleanTech's system – fuel tank, lines, rail assembly and powertrain controls – is designed to offer performance that is identical to traditionally fueled models (255 hp/350 lb.-ft. torque).
As far as we could tell – mind you, from driving on a hotel/conference center campus – the van does just that. Our ROUSH CleanTech host did not mind a stiff stomp on the pedal to see how the vehicle picked up, and it responded pretty much as one would expect from a four-ton van: no whiplash, but no bogging down, either.
One difference between a traditional gasoline-powered vehicle and a propane vehicle is that, with the latter, there is a slight delay between when you turn the key and get ignition. The ROUSH CleanTech system maintains fuel-line pressure – and, thus, the liquid state of the propane – when the vehicle is in use. But when the vehicle is off, the pressure in the lines decreases and vaporization occurs.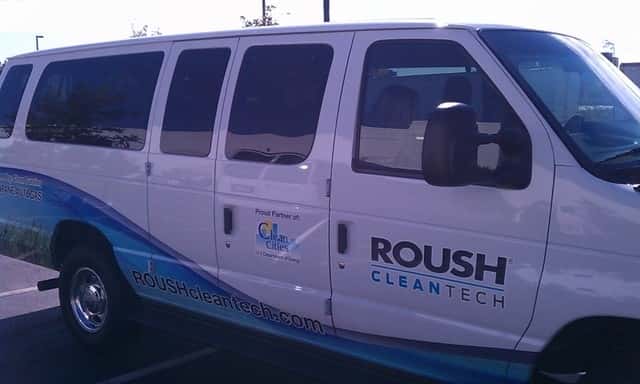 When you turn the key, the fuel pump begins to circulate liquid propane through the system. A sensor reads the fuel pressure and temperature, and when that reading says the fuel pressure is sufficiently high and the temperature sufficiently low (pointing to the presence of liquid propane), a solenoid opens fuel flow to the intake, the ignition triggers and the engine starts.
This effect is not unlike what a fleet driver experiences with diesels and a glow-plug delay. Just wait a few seconds, and you're ready to go.
Diesel power, of course, still plays a huge role in the overall fleet universe. And electric hybridization is increasingly augmenting the traditional diesel powertrain, resulting in significant fuel savings.
Hino Trucks, a division of the Toyota Group, has been a leader in this area, with thousands of diesel-electric hybrids deployed to date in one of its core markets, Japan. Hino now has hybrid trucks available in the U.S. with its 195h COE Class 5 truck (GVWR 19,500 lbs.).
The vehicle features Hino's 5.0-liter in-line four-cylinder J05E-TP engine, which offers 210 hp and 440 lb.-ft. of torque. The engine is paired with Aisin's A465, six-speed automatic transmission.
The 195h differs from its traditional diesel-powered 195 counterpart by virtue of a 36 kW electric traction motor backed by a nickel-metal hydride battery system and regenerative braking technology. The diesel engine, transmission and electric motor work in unison through Hino's proprietary Hybrid Adaptive Control System and Engine Control Unit to maximize vehicle performance and fuel efficiency (to the tune of 20%+ improved fuel economy).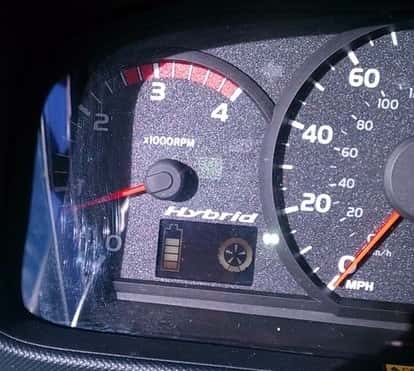 When we drove the truck, nothing jarring occurred to indicate that the vehicle was operating in hybrid mode. Acceleration and shifting were smooth. In fact, indicators on the dash offered the only clues that we were in 'ECO' mode.
However, upon stopping, we did notice ECO mode in action. When you depress the brake pedal on the 195h and come to a complete stop, the engine automatically shuts off, eliminating idling and conserving fuel. The engine automatically restarts the instant you remove your foot from the brake.
One critical factor connects these three very different technologies: drivability. Factors such as vehicle cost, reliability and fuel availability are certainly part of the equation in terms of assessing diesel-electric hybrids, natural gas, propane autogas and other alt-fuel vehicles. But if an alt-fuel vehicle gives a substandard driving experience, fleets will understandably balk at the idea. Our exposure to these three vehicles, albeit limited, suggests that drivability is not an issue.
Photos by NGT News. Main photo: Hino's Glenn Ellis stands outside a model 195h.