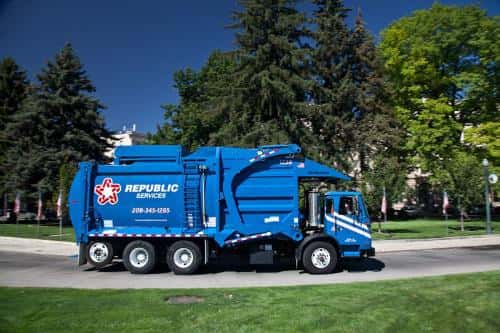 Republic Services, a U.S. recycling and non-hazardous solid waste company, has added 20 new compressed natural gas trucks and a CNG fueling station to serve customers throughout Bridgeton, Mo.
According to Republic, the new CNG trucks replace older diesel-powered trucks and bring the total number of natural gas vehicles operated locally by Republic to 133.
"We are dedicated to providing our customers with outstanding service while doing business in the most sustainable manner possible," says Casey Powers, general manager at Republic Services.
"This expansion embodies the responsibility we assume, as a large vocational fleet operator, to do our part to preserve the natural beauty of our environment for future generations," Powers continues. "It also represents a company-wide effort to reduce carbon emissions whenever possible."
Republic Services says it operates a total of 181 collection trucks supporting more than 36 local municipalities and open market areas in Bridgeton. More than 73% of Republic's fleet serving the local area is now powered by the domestic natural gas fuel source.
Clean Energy Fuels, who originally designed and built the station, provided the upgrades and modifications to accommodate the increase in natural gas trucks.
Nationwide, Republic operates a fleet of more than 2,500 CNG vehicles and 38 natural gas fueling stations. As the operator of the eighth largest vocational fleet in the country, Republic has a number of initiatives to reduce overall fuel usage, including its continued commitment to operating CNG trucks. Together, these initiatives will help Republic reach its goal of reducing fleet greenhouse-gas emissions by 3% by 2018.