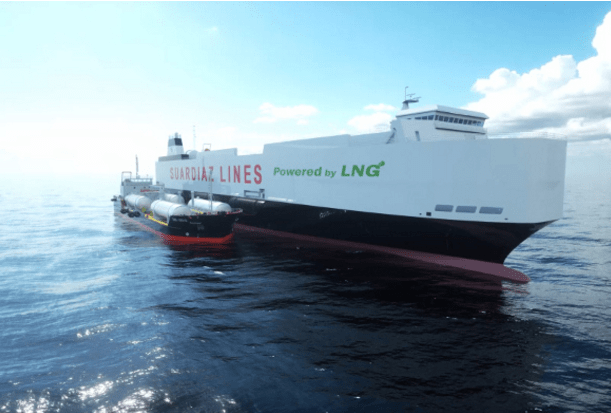 A new report released by the Canadian Natural Gas Vehicle Alliance (CNGVA) says major economic benefits and emissions reductions can occur by expanding the use of natural gas as a marine fuel on Canada's Great Lakes and East Coast.
The report, "Liquefied Natural Gas: A Marine Fuel for Canada's Great Lakes and East Coast," is a summary of an in-depth study undertaken in partnership with Transport Canada and with the support of a broad cross section of industry, government and other stakeholders. The report concludes that using liquefied natural gas (LNG) and compressed natural gas as a marine fuel will provide significant economic benefits to the owners and operators of vessels, especially coastal vessels.
In addition, the report notes that natural gas is a clean energy option that offers a means of reducing emissions to meet current and pending environmental regulations.
The report concludes the following under a "medium" adoption scenario:
148 LNG vessels could be operating on the Great Lakes and East Coast, requiring 783,000 metric tonnes of LNG annually provided through Canadian port facilities in 2025.
Vessel owners may see annual fuel cost savings of 25% to 50% in 2025.
Significant emissions reductions in 2025:

880,000 tons/year in CO2e emissions
37,100 tons/year in sulphur oxides
19,600 tons/year in nitrogen oxides
6,100 tons/year in particulate matter
In the report, several barriers to greater adoption of natural gas are outlined, including LNG and CNG production and distribution capacity, human resources needs, and unfamiliarity with the technology and fuel. The report then makes a number of recommendations to address these barriers.
"With the arrival of LNG-powered ferries in eastern and western Canada, this promising clean and affordable marine fuel has begun to gain a toe hold in Canada. Ongoing collaboration remains essential to clearing the regulatory path to ensure that Canada's abundant natural gas resources can be more widely used in the marine sector," says Bruce Winchester, executive director of the CNGVA.
Serge A. Buy, CEO of the Canadian Ferry Association, adds, "Canadian ferry operators are increasingly interested in adopting LNG as a fuel source. The environmental benefits and cost savings show that there is strong potential for the sector. With increased access to LNG will come greater adoption."