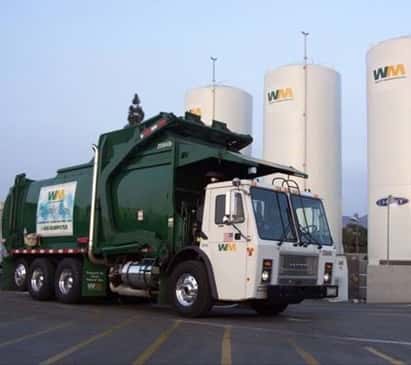 The 10 million trucks and buses currently operating on U.S. roads provide essential services to virtually every American community, and they transport goods worth nearly 70% of the GDP. And notably, although these buses and trucks comprise just 4% of all vehicles, they use 23% of all highway fuel – almost entirely diesel.
Our company's recent 'Renewable Natural Gas: The Solution to a Major Transportation Challenge' report suggests that fossil-based natural gas and renewable natural gas (RNG) can replace major quantities of diesel. For its part, RNG use in a vehicle requires no technology breakthroughs, so it is relatively easy to introduce into the heavy-duty trucking and bus sectors. It can be transported through the same pipelines, stored in the same tanks, dispensed through the same refueling facilities, and used to power the same engines as fossil natural gas.
Every bus and truck fleet that has already converted vehicles to run on fossil natural gas is ideally suited to shift to RNG. A central challenge to this shift involves ramping up production of RNG from local organic wastes and getting the fuel to vehicle markets either via refueling equipment at the fuel production site or by sending it to markets further away by tanker trucks or pipeline.
Nonetheless, the handful of profiles that follow illustrate the many settings in which RNG is displacing the use of diesel among fleets. The projects use proven technology, and the fuel prices are currently competitive relative to diesel.
Altamont Landfill, California
Since September 2009, Waste Management, in collaboration with The Linde Group, has successfully operated the largest renewable liquefied natural gas (LNG) plant in the world at the Altamont Landfill in Livermore, Calif.
The facility produces up to 13,500 gallons of LNG daily, which is enough to power a fleet of more than 300 WM collection trucks. By using renewable LNG, WM eliminates close to 30,000 tons of carbon dioxide emissions every year while also enjoying significant fuel cost savings. WM estimates the supply of renewable LNG at Altamont will last for at least 30 years.
The company has already converted a third of its Alameda County waste collection trucks to natural gas. In part due to the success of the Altamont facility, the company plans to convert the entire WM Alameda County fleet to natural gas in the coming years.
This project has been cited by many as the greatest evidence of the economic viability of renewable natural gas. Of the more than $16 million in initial capital investment required to build the facility, $14 million was privately funded by Linde and WM. Public funding sources for the remaining amount included the California Air Resources Board ($610,000), CalRecycle ($740,000), Southern California Air Quality Management District ($250,000) and California Energy Commission ($990,000). Subsidies and tax credits continue to offset costs, but unlike many other renewable energy projects, the Altamont facility is largely a private endeavor.
Fair Oaks Dairy, Indiana
The first long-haul fleet in the U.S. to be powered by renewable compressed natural gas (CNG) transports milk from Indiana to Kentucky and Tennessee. An anaerobic digester built in 2009 – using bacteria in an oxygen-free environment to convert organic waste to CNG – processes 500,000 gallons of liquid manure per day. This year, renewable CNG production will exceed 1.5 million diesel gallon equivalents (DGE).
The biogas is upgraded for use as a vehicle fuel at an on-site plant near the digester and is subsequently sent via pipeline to two refueling stations built by Clean Energy Fuels. The CNG fuels 42 long-haul trucks operated by Ruan Transportation Services and AMP Americas.
The digester technology is from DVO Inc. (formerly GHD), and Flotech Greenlane, an provided a Totara+ biogas upgrading system. UTS-Residual Solutions has a 'design-build-operate' contract for the entire system, including technology selection, installation and management, and the construction and maintenance of the fuel delivery and storage system (except for the fueling station).
Private financial partners in the project were Fair Oaks Dairy and AMP Americas. Together, they covered the majority of the total $19 million investment. Federal stimulus funds totaling $750,000 (administered by the Clean Cities of Greater Indiana) supported construction of the CNG stations, and a $2 million grant from Indiana's State Energy Program covered the incremental cost of Fair Oaks' CNG trucks.
The use of renewable CNG will result in $2.5 million in annual fuel savings and CO2 emissions reductions of more than 16,500 tons.
Rodefeld Landfill, Wisconsin
In January 2011, the first CNG vehicle at the site was fueled using biogas from the existing Rodefeld Landfill in Dane County, Wis. The facility has now been in operation for over a year and fuels 10 to15 vehicles with renewable CNG.
The site's annual fuel capacity is approximately 39,000 DGE, and the fuel costs as much as $1.70 less per DGE. There is one refueling station at the landfill, and a second site in Madison delivers conventional CNG.
The Bio-CNG 50 System, at a cost of $400,000, is intended for the smallest levels of commercial production, making it ideal for the Dane County project. The system was designed by Cornerstone Environmental Group/BioCNG LLC and Unison Solutions, and manufactured by Unison.
The project was paid for with capital from Unison Solutions and Cornerstone Environmental. Both groups helped develop the technology and wanted to get a full-size system up and operating. Dane County will be purchasing and expanding the system, paid for through the sale of bonds and a $150,000 Wisconsin State Energy Office grant.
In January 2012, the U.S. Environmental Protection Agency (EPA) named this innovative facility the Project of the Year under the Landfill Methane Outreach Program (LMOP). Notably, there were no grants or tax credits involved in the financing of the pilot facility.
Bio-Energy Digester, Ohio
In Columbus, Ohio, the first in a new generation of anaerobic digesters includes vehicle fuel production as a standard feature, along with electric power generation. Through the collaboration of quasar energy, Kurtz Bros. and the Solid Waste Authority of Central Ohio (SWACO), this large-scale facility has been constructed to convert bio-solids (from wastewater treatment); food and beverage waste; and fats, oils and greases to biogas and renewable CNG for use as electricity and vehicle fuel, respectively.
The facility uses quasar energy's ecoCITY System 1325 – patented technology consisting primarily of a large anaerobic digester adjacent to waste storage tanks, which combine to turn approximately 50,000 wet tons of waste (annually) into enough electricity to power 750 homes and CNG to fuel the local municipal fleet.
The Columbus plant is one of four operational digesters (and four more under construction) designed and built by quasar, which has a long-term focus on using renewable natural gas as a vehicle fuel.
State funds, dedicated to alternative energy and green job creation projects, made available to quasar accounted for a large portion of the total facility construction costs. A small grant was also given to Kurtz Bros. from the Ohio Department of Natural Resources to help purchase organic waste recycling equipment.
St. Landry Parish Landfill, Louisiana
In April 2012, the Town of Washington, La., opened a fueling station at the St. Landry Parish landfill to supply its municipal fleet with landfill-gas-derived natural gas fuel. This was the first renewable natural gas vehicle fuel project in Louisiana, and it was inspired and guided by the community's leaders.
In 2009, the St. Landry Parish Solid Waste Commission (SLPSWC) began educating itself about the potential of an economically viable renewable natural gas vehicle project to reduce its carbon emissions by utilizing the landfill gases generated at their municipal solid waste facility.
Since January 2011 SLPSWC and a number of partners (GT Environmental Finance, RPH Engineering, Aucoin & Associates and Cornerstone Environmental) have been working on a biogas upgrading facility and fueling station. The facility will initially supply fuel to 15 light- and medium duty municipal vehicles that were recently retrofitted with natural gas engines by Control Tech. The landfill, which accepts waste from approximately 40,000 households, has the potential to generate fuel for more than 50 vehicles in the foreseeable future.
The project was entirely funded by public sources: a $551,000 grant from the Louisiana Department of Natural Resources; $250,000 in state tax incentives given for renewable energy projects, and $200,000 to be generated through municipal taxes.
Joanna D. Underwood is president of Energy Vision, a New York-based nonprofit organization that is focused on identifying and promoting clean, renewable energy sources and petroleum-free fuels for transportation applications. This article is derived from a new Energy Vision report titled 'Renewable Natural Gas: The Solution to a Major Transportation Challenge,' which can be accessed HERE.
Photo: A shot taken at Waste Management's renewable LNG facility in Livermore, Calif. Courtesy of Energy Vision/WM