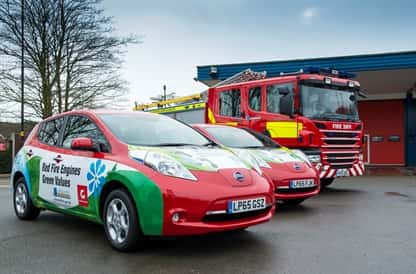 Sales of the Nissan LEAF and e-NV200 electric vehicles (EVs) in the fleet market have climbed for a fourth consecutive year, according to the automaker, with sales up 45% in 2015. Nissan sold more than 7,500 LEAFs and e-NV200s to fleet operators and municipalities in Europe, notching a 28% share of the EV fleet market. That marks over 20,000 Nissan EVs sold to fleet customers across Europe since its launch.
Costing approximately $0.03 cents per kilometer to run, Nissan EV owners benefit from low fueling and maintenance costs that make for an unrivaled total cost of ownership. Nissan says that its EVs provide estimated maintenance costs up to 40% lower than petrol or diesel alternatives. European fleet owners can also benefit from varied incentives offered by governments across the continent, often shaving thousands of dollars off of the MSRP.
"It's great to see Nissan EV fleet demand going from strength-to-strength as businesses catch on to the many marked advantages electric vehicles have to offer," says Gareth Dunsmore, director of EVs for Nissan Europe. "Nissan not only offers a great pure electric range for businesses, but we have also employed EV fleet specialists in most European countries – trained to provide advice and support to customers, offering analysis of total ownership costs and charging infrastructure. This strategy has proved incredibly effective at assisting businesses who are interested in zero-emission technology but need some guidance on making the switch to zero-emission motoring."
Postal services are among the many service providers that have been particularly quick to take advantage of the clear benefits associated with switching to electric. Österreichische Post AG, the Austrian state postal authority, already utilizes 160 e-NV200s and has recently confirmed an order for 100 additional units.
Many public bodies and government organizations across Europe have also decided to lead by example and convert their fleets to zero-emission vehicles. In the U.K., Nissan has sold over 350 EVs to public entities, and the City of Bari in Italy has just launched a car sharing service in cooperation with ACI Global using 30 Nissan LEAFs. Over 20 academic institutions in the U.K. have added Nissan EVs to their fleets, as well.
In the U.K., Nissan's total EV fleet sales for 2015 were up 43% compared with 2014, with 2,573 combined LEAF and e-NV200 sales versus 1,806 for the previous financial year. EVs now make up around 3% of all fleet sales, with an increasing number of major contracts. This includes the West Midlands Police renewing its fleet of 30 Nissan LEAFs and upgrading to the new 30 kWh model, which can go up to 100 miles on a single charge.
The Nissan LEAF remains the best-selling EV, with almost 220,000 units sold worldwide. In 2015, 16,916 Nissan LEAFs were sold in Europe, securing a new annual record.