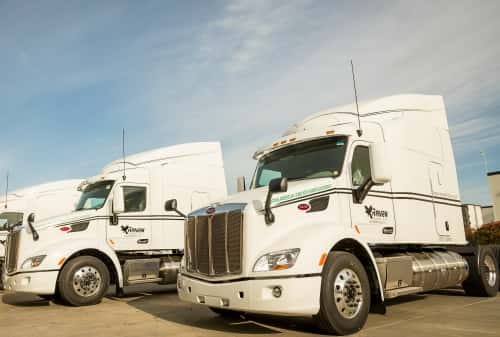 Florida-based carrier Raven Transport is expanding its liquefied natural gas (LNG) truck fleet and again teaming up with Clean Energy Fuels Corp. for fueling.
Raven Transport will deploy 115 new LNG-powered Peterbilt Model 579 trucks to haul products for an unidentified consumer packaged goods company. The new vehicles, equipped with sleepers and Cummins Westport ISX12 G engines, will add to Raven's 69 other LNG trucks.
"Raven is rising to the challenge to move our customers' goods with clean-burning fuel. Industry-leading shippers continue to set the standard in sustainable logistics, and today's announcement enables Raven to accommodate these high standards," says Stephen Silverman, chief operating officer at Raven Transport.
Clean Energy Fuels has announced it will support longtime customer Raven's expanded LNG fleet by opening four truck-friendly natural gas fueling stations in Atlanta; Birmingham, Ala.; Pearl, Miss.; and Theodore, Ala.
The fleet will also fuel at Clean Energy's existing Albany, Ga.; Charlotte, N.C.; Jacksonville, Fla.; Houston Baytown, Texas; Latta, S.C.; and Valdosta, Ga., stations. Furthermore, Clean Energy says mobile LNG fueling units will be deployed in Eden, N.C.; Newnan, Ga.; Ocala, Fla.; and Pineville, La., to enable LNG refueling throughout the Southeast.
According to Clean Energy, the expanded fleet will operate on irregular routes originating from production plants and distribution centers in the Southeast and is forecast to consume approximately 2.4 million additional DGEs of LNG annually.
"The natural gas fueling ecology continues to strengthen as America's largest shippers and their logistics companies transition to natural gas," says Chad Lindholm, vice president of Clean Energy. "As these four stations open and join our existing infrastructure, it becomes increasingly feasible for fleets hauling in the Southeast and beyond to make the switch to natural gas."
This news follows Peterbilt Motors Co.'s recent announcement that the company is now offering its Model 579 in LNG configurations.
"We're proud to provide Raven Transport with our aerodynamic Model 579s powered by LNG, the newest addition to our industry-leading portfolio of natural gas vehicles," comments Robert Woodall, Peterbilt's assistant general manager of sales and marketing.
Raven Transport purchased its expanded LNG truck fleet from Rush Truck Center – Jacksonville, Fla., which is part of a U.S. network of commercial vehicle dealerships owned and operated by Rush Enterprises.
Custom Vehicle Solutions, another Rush Enterprises company, then completed the installation of Chart LNG fuel systems purchased through Clean Energy's tank pricing program.
"With this informed and progressive choice, Raven Transport will continue to drive adoption of alternative fuels, impacting the entire transportation industry," says W.M. "Rusty" Rush, chairman, CEO and president of Rush Enterprises.
"Rush Truck Centers has made significant investments to support alternative fuel vehicles with dedicated natural gas bays and certified technicians across the country, allowing us to continue to support Raven Transport with their service needs," adds Rush.
Photo: New Raven Transport LNG trucks outside Peterbilt Motors' assembly plant in Denton, Texas.