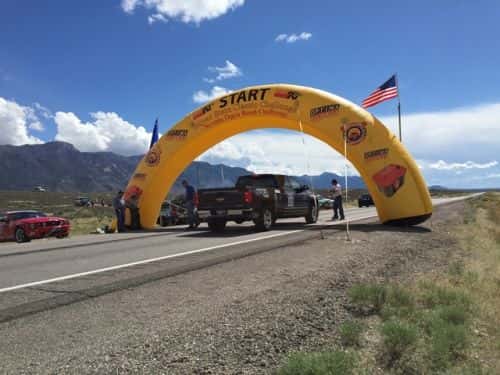 The Silver State Classic Challenge – a 90-mile road race along Route 318 between Lund and Hiko, Nev. – has seen its fair share of hot automobiles and intense racing action over the past 25 years.
What it hasn't seen is a natural gas vehicle among its field of racers.
Until now.
In fact, the NGV that ran the race the weekend of Sept. 20 was probably the most unlikely of NGVs to compete in such an event: a 2014 Chevy Silverado 1500 crew cab with four-wheel drive and a GM 6.2-liter configured in a bi-fuel compressed natural gas (CNG) application.
That's right: a CNG-powered pickup truck among Lamborghinis, Ferraris and countless other exotics and muscle cars.
The truck, which competed in the Nevada Open Road Challenge portion of the event, was converted by Utah-based AGA Systems using a 24 GGE CNG fuel system from Quantum Technologies. AGA specializes in CNG conversions for direct-injection GM engine platforms, such as the 6.2-liter and 5.3-liter.


Bryan Wilcox, a racing enthusiast and AGA's vice president of business development, took the truck through Silver State's stringent technical check, which necessitated that the Silverado be outfitted with speed-rated tires and associated safety equipment. But except for those upgrades and the CNG system itself, the truck ran the Challenge in a stock configuration. Wilcox attacked the course with navigator and AGA colleague Silas Smith.
The CNG Silverado raced in the 105 mph class, which is capped at a maximum speed of 124 mph at any point on the course. And what other vehicles stood with Wilcox's truck at this starting line? How about a Cadillac CTS, a ZL-1 Camaro and 'an ocean of Corvettes,' he says.
Wilcox raced the truck at around 96 mph the entire course, and the vehicle crossed the finish line – albeit in last place. However, there is little doubt that among the entire field of racers that weekend, bi-fuel CNG stood out as a major winner for simply having a presence and holding its own.
Photos by Jordan Taylor