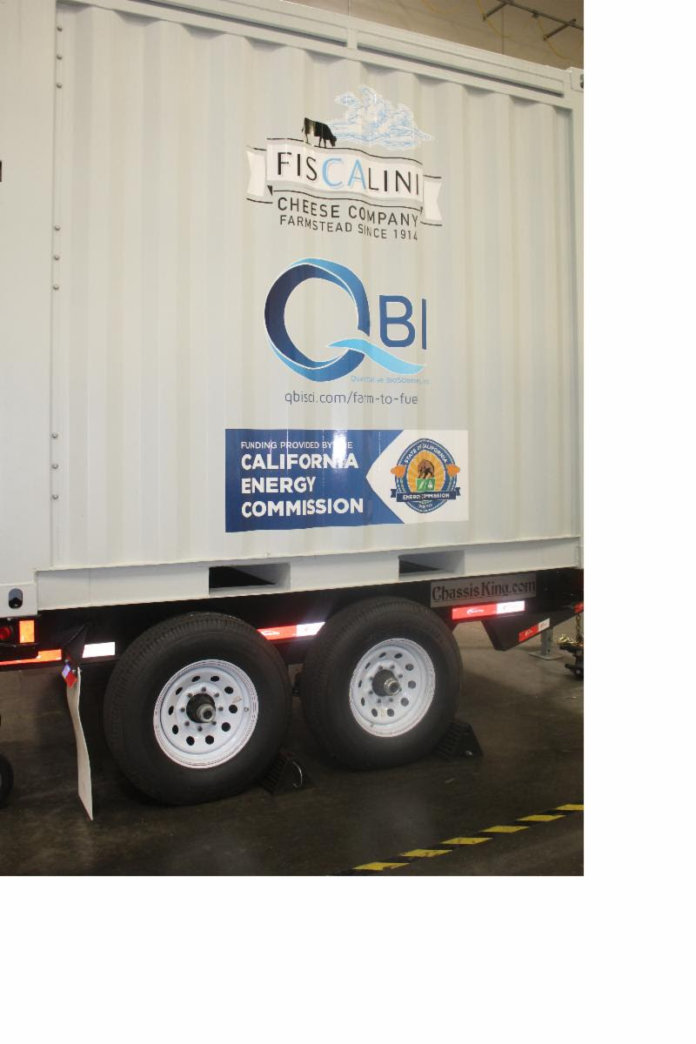 In a new partnership with Quantum Fuel Systems LLC, Quantitative BioSciences Inc. (QBI) is purchasing Quantum's newest 10-foot virtual pipeline trailers to be used in a dairy biogas project.
QBI, with funding from the California Energy Commission, has partnered with the family-owned and -operated Fiscalini Cheese Co. in Modesto, Calif., to develop a biofuels production facility that will purify and compress the biomethane from anaerobic digesters into vehicle fuel.
Adding to the environmental benefits of the project, simple raceway algae ponds will be used to clean the farm's wastewater, consume the carbon dioxide from the biogas, and grow renewable algae biomass to supplement the feed for the farm's cows. The goal of the project is to make 450 diesel gallon equivalents of compressed natural gas (CNG) per day and demonstrate that algae can help a farm extract the maximum value from its waste by converting it to both fuel and feed.
"We are going to be producing enough fuel for 10-20 trucks per day, and we were looking for a way to get this fuel to a local CNG fleet via a virtual pipeline. Quantum's trailers provided the perfect solution," comments Natalie Cookson, CEO of QBI. "As California faces increasing strains on both our finite energy resources and limited water supplies, we are hoping to demonstrate ways in which a farm can maximize its resources and become increasingly self-sufficient. Our forward-thinking partners at Fiscalini Cheese Co. are very excited to serve as the demonstration site for this 'farm of the future' concept."
"We are excited to provide a way for captured biomethane to be easily stored and transported," adds Mark Arold, president of Quantum Fuel Systems LLC. "There is an abundance of dairy waste producing biomethane on farms all over the country. As more farms realize the benefits of capturing and selling this gas as fuel, our trailers will help bring more renewable natural gas to market".
Quantum's 10-foot modular container has a gaseous capacity of approximately 83,635 standard cubic feet. It weighs less than 9,000 pounds empty and less than 12,500 pounds fully loaded. The container is equipped with eight (or six) Type 4 CNG tanks and can be towed by a ¾-ton pickup truck. The VPLite6/8 is available now in the U.S. and will soon be certified for use in Canada, with worldwide availability to follow.