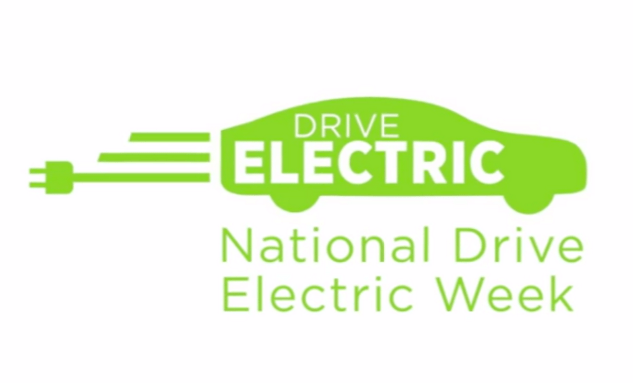 NGT News spoke with Plug In America representatives Laura Braden and Patrick Harbison about the upcoming sixth annual National Drive Electric Week (NDEW), to be held Sept. 10-18, aiming to accelerate the national adoption of plug-in electric vehicles (EVs).
Q) Tell us about NDEW. What is the primary goal of the event?
Braden: NDEW is a national celebration to heighten awareness of today's widespread availability of plug-in vehicles and highlight the benefits of all-electric and plug-in hybrid-electric cars, trucks, motorcycles and more. EVs are better for our climate, improving air quality and reducing our dependence on dirty fuels, and they save consumers money while also being fun and convenient to drive.
NDEW provides consumers, media and policymakers with the perfect opportunity to understand why more than 1 million drivers around the globe are making the switch to electric. Over 90 cities have already registered events, with more than 200 expected.
Harbison: NDEW events show the general public that EVs exist, they're available today, and the people who own them love them. People who drive EVs are far and away the most knowledgeable, passionate advocates for them. NDEW events allow consumers to talk with each other in a comfortable, non-salesy environment about how great EVs are. It takes the pressure off people who want to learn more.
The events have also evolved over the years to a festival-like atmosphere, so it's a fun opportunity for the whole family to enjoy their community's EV celebration. People get hands-on experience, as a lot of the events offer test drives. A successful NDEW event formula is pretty simple: Usually, there's food and music, cool cars, and always enthusiastic EV drivers.
Q) What do you expect for the electric drive market? Is it the fuel of the future?
Harbison: When paired with renewably generated electricity, electric drives are the cleanest option. We aim to show that the technology is available today, and with public education becoming more widespread through events such as NDEW, we are confident EVs will eventually overtake fossil fuels and come to dominate the market.
Q) What sort of event activities are to be featured, and what opportunities do these events create?
Braden: We've found that when it comes to transitioning drivers from gasoline to electricity, nothing beats the opportunity to experience the clean, quiet and powerful plug-in vehicles firsthand. To that end, NDEW features a variety of community events, including test drives, parades, news conferences and announcements of new EV policies and programs.
Organized at the local level by community leaders and EV drivers, Plug in America, Sierra Club and the Electric Auto Association provide national support and resources to ensure a successful week of community engagement.
Q) What companies are sponsoring the national event? Are there local sponsors?
Braden: Nissan LEAF is the exclusive automotive sponsor of NDEW. Local sponsors vary by event. Those interested should visit driveelectricweek.org/sponsorship.php.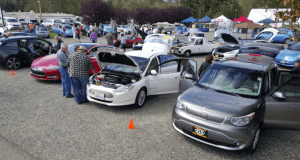 Q) When was the first NDEW held, and what was the turnout?

Braden: Since launching in 2011 with events in 29 cities, NDEW has experienced rapid growth. In 2015, we hosted 196 events in 41 states, seven Canadian provinces, Hong Kong and New Zealand, with more than 130,000 participants and more than 9,000 test rides.
In fact, NDEW events are linked to increased plug-in vehicle sales, which have jumped by as much as 23% the month after.
Q) What have people had to say about this event in years' past? What do you expect for this year's turnout?
Harbison: We've had folks return year after year, with bigger and bigger events capturing the attention of media, policymakers and the public. They become EVangelists for the technology! And, we find that their enthusiasm can be contagious. We're well on track to break last year's record of 196 cities and more than 130,000 attendees.
Q) What do you hope attendees will take away from the event?
Harbison: EVs are a real option, and we believe they are better than their traditional counterparts. Consumers can now choose an EV to fit almost every lifestyle and budget, with more coming online all the time. And, EVs are part of the larger solutions to vexing problems, including climate change, air pollution and energy security.
According to Plug In America's executive director, Joel Levin, "U.S. plug-in vehicle ownership has jumped by almost 50 percent since the beginning of last year. With fewer moving parts – no mufflers, catalytic converters or even oil changes – EVs are both cheaper to fuel and maintain than conventional vehicles. And best of all, many drivers quickly learn they don't need to waste time 'going somewhere' just to refuel their ride. They just head home to do it!"
Find an event near you (additional events to be announced) at driveelectricweek.org/events.php. Those interested in volunteering or organizing an event in their communities should visit driveelectricweek.org/volunteer.php.
You can follow NDEW on Facebook, Twitter and Instagram, with hashtags #NDEW16 and #DriveElectric.
Plug In America, a national nonprofit organization, works to accelerate the shift to plug-in vehicles powered by clean, affordable, domestic electricity to reduce our nation's dependence on petroleum and improve the global environment.
Photo Credit: Steve Coram via Plug In America, showing event in Bellingham, Wash., on Sept. 13, 2015.