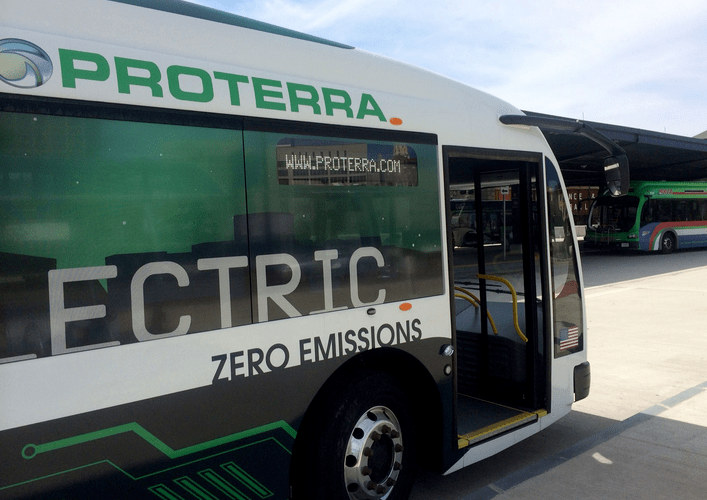 In a move intended to accelerate widespread electric vehicle (EV) technology adoption and infrastructure development, Proterra, a developer and manufacturer of zero-emission vehicles, has opened its on-route EV fast-charging technology to the transit industry on a royalty-free basis.
Proterra says it will grant anyone royalty-free access to three of its patents related to its single-blade overhead charging design, including the bus-mounted, single-blade charging design and the overhead charging coupler. Moreover, Proterra is working with its suppliers to open up its single-blade overhead charging design for direct sale to third parties.
"As more and more electric buses operate on U.S. roads, it will be critical for the transit industry to have access to open technology platforms in order to effectively scale this technology and enhance the transit industry," says Lee Gibson from the regional transportation commission of Washoe County, Nev. "With Proterra opening up its technology to other manufacturers, this will significantly benefit communities across the nation with this proven technology. Together, they can move the industry forward."
Proterra says it has more battery-electric buses on the road today than any other manufacturer and claims its single-blade overhead fast-charge system is the most utilized on-route charging technology in the industry.
In order to meet the needs of transit operations, the single-blade vehicle coupling mechanism supports a charging voltage range of 250-1000 VDC and can provide an electrical current of up to 1,400 amps.
According to Proterra, some have argued that transit agencies should not go electric because it would lock them in to a single bus vendor. With this move, that will no longer be the case, as any bus manufacturer will be able to use the single-blade charging technology solution.
"We believe that everyone benefits from open platforms and greater customer choice," says Ryan Popple, CEO of Proterra. "We hope that this decision will encourage even more transit agencies to bring clean, quiet, emission-free vehicles to our city streets and community roadways."