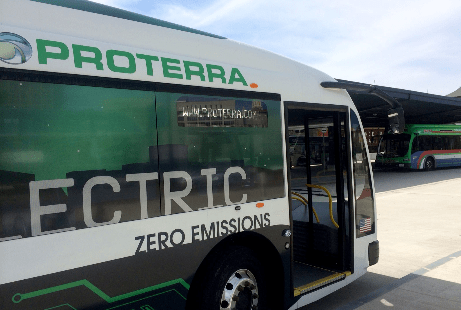 Heavy-duty electric transportation company Proterra has been selected by the Georgia Department of Administrative Services as a vendor to supply zero-emission battery-electric buses and charging stations for public transportation.
According to Proterra, the state has more than 1,182 buses in operation, serving customers with nearly 150 million trips per year.
Proterra, along with other manufacturers, was chosen by the state for a "pool of providers" to dramatically streamline local transit agencies' access to vendors and vehicles that meet specific needs. As a result, transit agencies can now purchase Proterra zero-emission buses and charging stations through the state's pre-established contract.
The deal represents Proterra's growing foothold across the Southeast: The company has previously signed contracts with transit agencies in Alabama, Florida, South Carolina, North Carolina and Tennessee.
"Implementing this forward-looking transportation initiative and policy is a huge win not only for Proterra and Georgia state institutions but for EV adoption in the U.S.," says Ryan Popple, CEO of Proterra. "We applaud the work of the State of Georgia and are eager to support the state's efforts to accelerate the adoption of emission-free mass transit for all."
Proterra says its configurable EV platform, battery and charging options make its buses well-suited for a range of transit and campus routes. The Proterra Catalyst E2 series achieves 22 MPGe, while conventional diesel buses average 3.86 MPG, the company says. In addition, Proterra's lightweight, carbon-fiber-reinforced composite bus body maximizes vehicle life while minimizing repairs and maintenance.