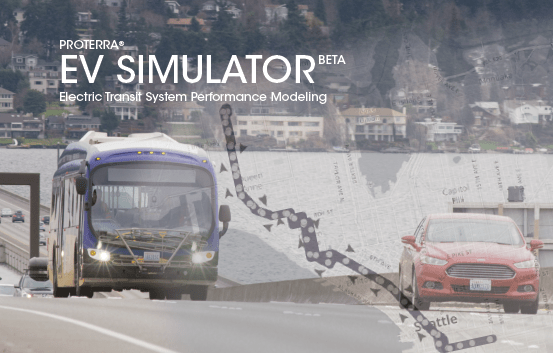 Proterra, a designer and manufacturer of zero-emission, battery-electric buses in North America, has announced a new battery design for the Proterra Catalyst XR transit vehicle and added the Proterra EV Simulator to its suite of products and services.
The company says that the battery-enhanced vehicle, within the same energy storage footprint as the original Catalyst XR, now holds 28% more energy at 330 kWh and features a best-in-market lightweight vehicle body. Proterra adds that all current Catalyst XR customers will receive a complimentary upgrade to the higher energy level.
"By increasing the battery's energy density, the team was able to utilize the Catalyst vehicle's purpose-built design and maintain its lightweight," says Gary Horvat, chief technology officer at Proterra. "The improved Catalyst XR marks another step toward Proterra's goal of providing a high-performance bus that can serve any transit route in the United States."
Proterra says the bus has already achieved the best efficiency rating ever for a 40-foot transit bus at 22 MPGe. The company further asserts that the Catalyst is nearly six times more efficient than a diesel or compressed natural gas (CNG) bus and is also significantly more energy efficient per mile than the closest competitors' electric bus.
Other performance benefits of the Catalyst XR2 include the following:
Longest nominal range – Capable of traveling 194 miles on a single charge, based on Altoona efficiency measures;
Lightest weight – At least 2,000 lbs. lighter than any other 40-foot battery electric bus on the market while also being more efficient;
Designed for safety – The batteries are temperature-controlled and incorporate both active and passive safety systems, with ruggedized, reinforced battery packs that are separated from passengers by a heavy-duty structural barrier; and
Transit agencies interested in assessing route-specific range, along with the cost savings, performance and environmental benefits of the updated Catalyst XR, can now receive accurate system-level data with the new Proterra EV Simulator.
According to Proterra, the EV Simulator provides fleet managers with customized, system-level information on electric bus deployment. The Proterra EV Simulator generates a side-by-side comparison of Proterra's transit solutions with diesel, CNG and hybrid technologies on specified transit routes within a chosen public transit system.
The Proterra EV Simulator incorporates a wide variety of variables affecting vehicle performance, including local temperatures, passenger load and vehicle efficiency, in addition to route specifications. The offering also takes into account energy use of the Proterra electric powertrain and provides an estimated daily route analysis.
Some of the key calculations include the following:
Annual maintenance and operational costs per Proterra bus;
Lifetime maintenance and fuel savings;
Overall total cost of ownership;
Energy efficiency MPGe;
Total daily distance and energy used per day; and
Charge time.
"As communities increasingly seek out EV public transit as an alternative to diesel, the Proterra EV Simulator removes all the guesswork from the procurement process, demonstrating the specific route-by-route benefits of fleet electrification," says Ryan Popple, CEO of Proterra.