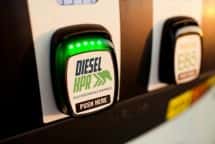 Propel Fuels has extended the availability of its Diesel HPR-branded renewable diesel to the company's stations across Southern California.
The company says Diesel HPR, which stands for 'high-performance renewable,' consists of 98.5% of Neste Oil's NEXBTL renewable diesel, a low-carbon fuel that can be used in any diesel engine. Propel launched Diesel HPR at 18 of its stations in Northern California in March and says it has seen a 300% increase in gallons sold compared to its former biodiesel product, B20.
"Drivers across Southern California can now experience the power, performance and value of Diesel HPR, while making a positive impact on the air quality of the region," says Rob Elam, CEO of Propel. "Any diesel vehicle can fill with Diesel HPR since it meets the ASTM D-975 quality standard for petroleum diesel."
Diesel HPR is now available at 13 Propel locations across Southern California.
In addition to new retail locations, Propel says it has launched Diesel HPR commercial and bulk availability for business and government fleets statewide. Delivered in bulk to businesses and agencies, Propel's HPR is bundled with the company's patented CleanDrive emissions accounting software, allowing fleets to quantify and report GHG reductions and air quality benefits.
"We congratulate Propel Fuels on their initiative to introduce Diesel HPR to consumers in California and are excited to be their supplier of choice with our NEXBTL renewable diesel," comments Kaisa Hietala, Neste's executive vice president of renewable products business area.