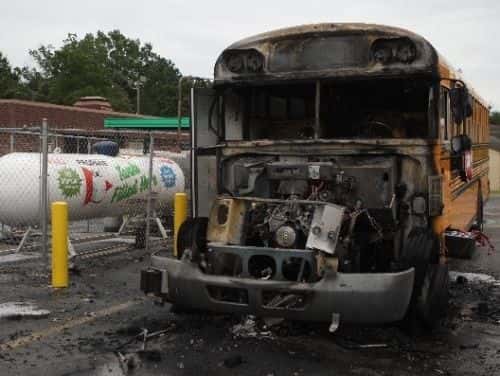 A new propane-powered Blue Bird Vision school bus was involved in a significant fire on Sunday in East Ridge, Tenn., that produced massive flames and destroyed the front end of the vehicle.
No one was hurt in the incident, which was first reported by the Chattanooga Times Free Press. East Ridge is a small city located just outside of Chattanooga.
A news item from the Associated Press incorrectly reported – citing East Ridge police – that Goshen, Ind.-based Quality Drive-Away Inc. owned the bus. Rather, Quality Drive-Away, a transportation services company, was simply transporting the vehicle.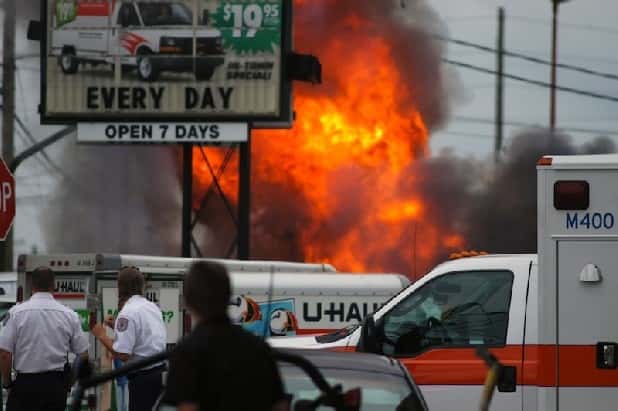 'We were driving it when it happened,' Quality Drive-Away's Dale Colville confirmed with NGT News. 'It was a unit being delivered.'
Colville could not share many details about the incident, noting that the case has been 'turned in to the insurance company.' However, he did say that the accident occurred while the bus was parked at a U-Haul facility located on Ringgold Rd. in the city. Propane autogas refueling equipment is located on that site.
Corporal Robert Wade of the East Ridge Police Department told NGT News that the vehicle was not in the process of being refueled when the fire occurred.
The Times Free Press' initial coverage suggested that explosions accompanied the fire. But Wade confirmed that the blasts that witnesses heard were the bus' two front tires – not explosions caused by the vehicle's fuel tank or the on-site refueling infrastructure.
In fact, Wade said that he spoke with East Ridge fire officials on Tuesday morning, and those on the scene 'saw no indication that the fire was propane-related.' None of the propane tanks – whether on board the bus or affixed to the U-Haul yard – were ruptured.
However, propane is the only fuel on board this model of dedicated-autogas Blue Bird bus, so it is possible that the fire – regardless of how it started – compromised the fuel system in the engine compartment, which is where the fire was located.
Right now, the cause of the fire is listed as 'undetermined,' Wade noted. The cause may never be known, depending on the extent to which the insurance companies or other parties investigate the incident.
Â
Photos © the Chattanooga Times Free Press