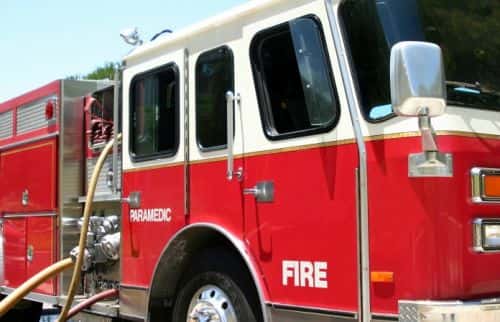 A preliminary investigation has linked a propane autogas tank to an explosion that badly damaged a commercial building and injured two people Tuesday morning in Detroit.
Capt. Terrence Lane, a senior fire inspector, tells NGT News the incident happened at a National Fleet Services facility at 10106 Grinnell Ave. Firefighters and other authorities rushed to the scene to contain the situation and handle a resultant fire.
Lane says six people were in the building when the event occurred at around 9:00 a.m. EST, and two of them were hurt.
"They both suffered second-degree burns, but both are okay,' says Lane. 'They are out of the hospital now."
National Fleet Services performs propane autogas and compressed natural gas (CNG) vehicle conversions at the building. In fact, several local news outlets reported Tuesday that a fire official initially suggested a CNG tank might have caused the incident.
However, Lane says he is "absolutely certain" the explosion involved a propane autogas tank, not a CNG one. He performed a detailed investigation, speaking with people who were inside the building when the event occurred.
According to Lane, workers were in the process of repairing a leaky propane autogas tank on a Ford E-450 shuttle bus operated by public transit agency SMART and equipped with a ROUSH CleanTech fuel system.
'They pulled in the bus in the morning to make repairs after speaking with the manufacturer, which was ROUSH [CleanTech], who gave them instructions on how to repair the leak,' reports Lane.
'They were told to slowly unscrew the two valves on the tank, and when they did that, apparently, there was a malfunction," he says. "The gas then began to shoot out uncontrollably.'
Lane says the workers tried to leave the location, but the gas quickly found an ignition source and an explosion ensued.
A gas-fired furnace with a pilot light was on the ground about 60 feet away from the vehicle, and Lane believes the furnace ignited the propane.
"That open flame was all it needed," he says, later stating the incident "was an accident."
Todd Mouw, ROUSH CleanTech's vice president of sales and marketing, has issued a statement about the incident.
"Everyone at ROUSH is thankful that everyone injured Tuesday has been reportedly released from the hospital and is recovering at home," says Mouw. "Our thoughts and prayers continue to follow their recovery process.
"We are committed to working with National Fleet Services and the authorities to determine what happened," he continues. "While we do not yet have enough information to understand what happened, we know that ROUSH products and systems – and propane as an auto fuel – have an excellent safety record."
Lane says further investigations by other officials will help determine exactly what happened.
"We weren't allowed to go inside the building because its structural integrity was compromised," he explains. Lane says the explosion destroyed most of the lower level of the facility, as three of the building's four walls were blown out.
"Investigators will go inside to confirm everything," states Lane. "But I'm 99.99 percent certain that what I uncovered is what they're going to find to be true."