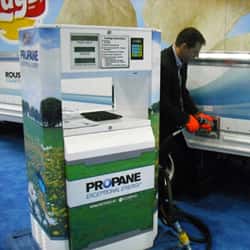 Right before the holidays, Student Transportation Inc. quietly issued a press release that many in the clean fleet arena viewed as a harbinger of great things to come for propane autogas. Various stakeholders are certainly hoping it is, indeed, the case.
Adoption of alternative fuels among fleets is light but building momentum, so one could argue that all news from the sector is notable in some fashion. However, the STI announcement was unambiguously big, especially for propane. The company was not deploying four or 40 propane-powered school buses, but 400.
The Omaha and Millard school systems in Nebraska contracted with STI subsidiary Student Transportation of America Inc. (STA) for the supply of these 400 units, which will be built by Blue Bird Corp. and feature ROUSH CleanTech autogas systems. STI says this project will put Omaha among the biggest propane-powered school bus fleets in the U.S., joining other school systems that have heavily bought into autogas, such as Mesa, Ariz., and Portland, Ore.
Perhaps the most intriguing aspect of this deal was that the request for proposals was fuel-type-agnostic – and propane won the day. 'STA chose to use propane autogas-powered school buses to provide a greener, more cost-effective transportation option,' the company told NGT News.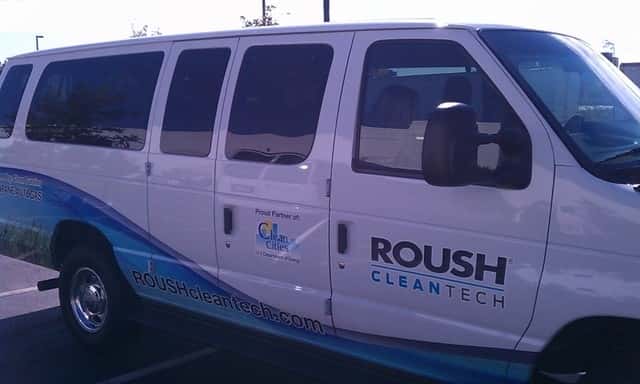 The corporate world appeared to be taking notice of propane last year, as well, and that activity could balloon into a formidable market presence for the alt fuel going forward. Consider, for instance, Sears Holdings' deployment of a couple dozen ROUSH CleanTech Ford E-250 propane-powered cargo vans in Seattle. Although 27 autogas vans is not a staggering number, Sears Home Services President Stu Reed alluded to a substantially more lofty figure.
'If we get the type of efficiencies we expect by converting these vans to ROUSH CleanTech propane autogas, we could scale this to all 10,000 service vans,' he said.
For its part, Icom North America LLC has been spearheading a sizable complement of propane conversions -140 Ford F-150 pickup trucks – for Menards Inc., which operates a large chain of home improvement stores in the Midwest. This project, which is coming to a conclusion this month, is focused mainly on the company's Illinois-based vehicles.
'Their entire fleet in the state went this way,' said Albert Venezio, chairman of Icom North America. He noted that Menards is eyeing a state-by-state approach to rolling out propane vehicles – ultimately to its entire 14-state footprint. If these plans materialize, hundreds of additional autogas-powered trucks will come online.
Other players in the autogas sector have been similarly busy. In mid-November, CleanFUEL USA and Collins Bus Corp. completed an order of more than 130 propane school buses for First Student Inc. in Oregon and Washington. These 32-passenger vehicles feature GM's 6.0-liter engine paired with CleanFUEL's autogas technology.
That project followed on the heels of a 53-bus deployment from CleanFUEL and Collins for Dallas County Schools (DCS) – another huge proponent of propane-powered transportation. DCS, in fact, has more than 600 of its buses running on propane.
And Alliance AutoGas, which offers a network of stakeholders that handle vehicle conversions, refueling infrastructure installations, training and other services, experienced a bonanza of business in the latter half of 2012. The group expanded its network of partners beyond the U.S. and into Canada, and it administered hundreds of conversions in states such as Virginia, Mississippi and Washington.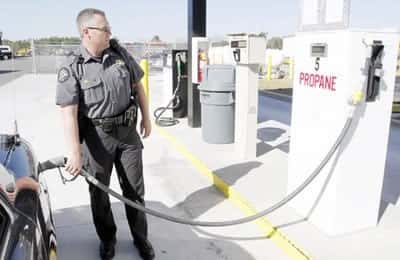 Long-term data for deployments such as these are coming together, and the results are encouraging. Just this week, Virginia Clean Cities (which administers the Southeast Propane Autogas Development Program) shared feedback from the Carroll County Sheriff's Office in Georgia, which began converting its vehicles to propane back in 2009.
Today, the fleet has 36 Ford Crown Victorias firing on autogas, and the county estimates that it is saving more than $125,000 annually on fuel costs. That figure will likely jump to just under $175,000 annually once the remaining 10 Crown Vics are converted, which will take place in the coming months.
The trend here is evident: The numbers are adding up. And with last week's extension of the federal $0.50/gallon alternative fuel excise tax credit, it seems likely that those numbers will continue to grow.
'When people think about alternative fuel vehicles, they think about natural gas. We want them to think about propane, too,' said Rick Roldan, president and CEO of the National Propane Gas Association (NPGA).
He noted that 5% of the propane consumed in the U.S. today is used in transportation applications, reflecting about 140,000 vehicles. The NPGA and its members, however, are bullish on where the autogas segment is heading. Roldan said an annual over-the-road market of 500 million gallons – up from approximately 300 million gallons annually today – is well within reach in three to five years.