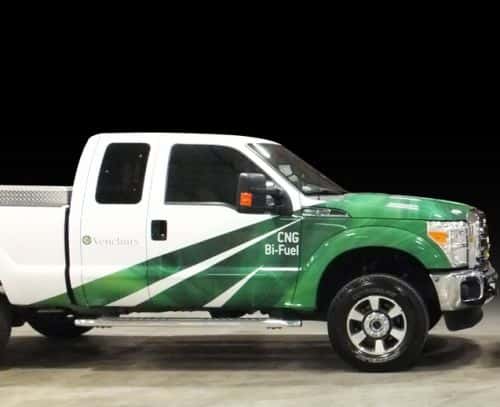 Venchurs Vehicle Systems says the integration of new technologies and the creation of new supply-chain partnerships has enabled the company to reduce the price of its compressed natural gas (CNG) conversions for Ford pickup trucks to $8,350 – a drop of nearly 25% from the previous price of $10,900.
The price point applies to both CNG bi-fuel and dedicated conversions on Ford F-250 and F-350 trucks that feature the 6.2-liter engine and 23.5 GGE CNG fuel system. This system is centered around 3M's new NGV2-2007-certified 21.5-inch x 60-inch CNG tank.
'We believe that our new price point will help move the industry forward, increasing the speed of adoption by fleet customers and retail customers alike,' says Jeff Wyatt, CEO of Venchurs Vehicle Systems. 'We have been working with companies like 3M to reduce the overall cost of conversion. With our new pricing, customers can reduce the amount of time it takes to see a return on their investment and ultimately make converting to CNG a financially viable option.'
As a Ford Motor Co. Qualified Vehicle Modifier (QVM), Venchurs enables its customers to order the Ford trucks using its direct ship-through process (supported by a facility in Louisville, Ky.) or remote ship-through option, via Adrian, Mich. Also, the QVM status ensures that the original Ford warranty remains intact, and fleets can finance the conversions through Ford Credit.
For ordering information, call (855) 264-4300.