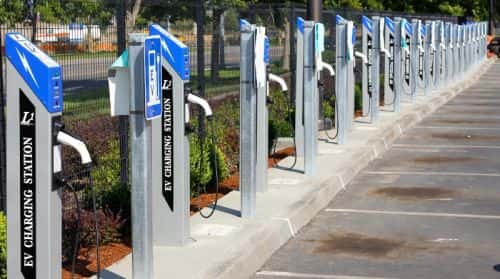 Portland International Airport (PDX) now has 42 L1 PowerPost electric vehicle (EV) charging stations in place. Telefonix Inc., designer and manufacturer of the PowerPost units, claims this represents the largest installation of commercial EV chargers at a U.S. airport.
'This installation makes a huge statement,' says Telefonix's Bill Williams.
'Airports are really taking an aggressive approach to delivering on the need for electric vehicle charging infrastructure,' adds Williams. 'Given that customers parking for four hours or more represent over 85 percent of all occupied spaces at an airport and the fact that airports often have sustainability initiatives in place, it's a perfect fit.'
According to Telefonix, PDX chose PowerPost Level 1 EV charging stations for their integrated, retractable cord reel, which helps keep cables off the ground and reduces maintenance and tripping hazards.
Furthermore, the company says Level 1 charging is well suited for long-dwell parking, which is typical at airports and workplaces. Level 1 charging enables EV drivers to recover about 5 miles of range for every hour they are plugged I, notes Telefonix.
The PowerPost EV charging stations will be free to use for employees and visitors.