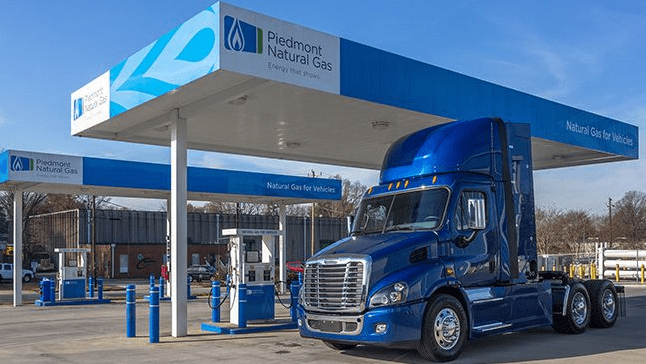 Piedmont Natural Gas, a subsidiary of Duke Energy, says it has seen a tremendous surge in demand for compressed natural gas (CNG) from commercial vehicle fleets and hopes to expand CNG adoption with lowered fuel prices and contracts with government and commercial fleets in North Carolina, South Carolina and Tennessee.
In a recent announcement, the fuel supplier reported on this strong growth, promoting several initiatives that will give more companies greater access to the cleaner, lower-cost fuel option.
First, Piedmont Natural Gas says it contracted with the City of Charlotte Solid Waste Services to install a CNG station for refuse trucks at its existing facility near uptown.
In addition, the company says its 11th public CNG refueling station has started construction and is expected to open later this year at a location near the junction of Interstate 40 and U.S. 321 in Hickory.
Earlier this year, Piedmont received approval from state regulators in North Carolina and South Carolina to temporarily reduce the price of CNG by $0.50 per gasoline-gallon equivalent (GGE) – passing through to customers a federal tax credit intended to expand the environmental benefits of CNG by encouraging the construction of CNG refueling stations.
As reported, Piedmont also passed the savings from the tax credit along to customers in Tennessee, where public CNG prices are unregulated.
"Piedmont Natural Gas has more than doubled its sales of compressed natural gas over the past two years because more businesses are recognizing the economic and environmental advantages of CNG," says Karl Newlin, Duke Energy's senior vice president and chief commercial officer in natural gas. "To encourage continued growth, we are helping our customers save money and providing greater access to this superior transportation fuel."
Other initiatives to accommodate the increase in demand for CNG throughout Piedmont's three-state service area of North Carolina, South Carolina and Tennessee include the following:
Working with municipalities and other local agencies in Charlotte, N.C.; Nashville, Tenn.; Wilmington, N.C.; and Anderson, S.C., to expand their use of CNG in airport parking shuttles and public transit buses.
Providing natural gas to private refueling stations for two large corporate fleets in Spartanburg, S.C., and Wilmington, N.C. The facilities are included in a network of CNG refueling stations Piedmont serves for both companies.
Adding a third dispenser island at Piedmont's two-year-old public CNG refueling station in Nashville to serve a rapidly growing customer base that includes shuttle buses serving nearby Nashville International Airport, a mail-delivery contractor and regional haulers taking advantage of the station's proximity to I-40.
Piedmont Natural Gas says it has sold, delivered or used approximately 5 million GGEs in the past year, and the company expects that volume to only grow.
According to the company, approximately one-third of its own corporate fleet currently runs on CNG.
"To keep growing our share of the transportation fuel market, we're doing everything we can to support CNG users," says Newlin. "By passing along savings we receive from the federal tax credit, we're doing exactly what the legislation intended – providing incentives for fleet owners and others to reduce their carbon footprint by choosing compressed natural gas."
The company explains that it supports the natural gas fuel for its myriad benefits, as vehicles powered by CNG release significantly lower levels of carbon dioxide than gasoline or diesel vehicles, as well as less nitrogen oxide and sulfur oxide and fewer particulates that create ground-level ozone or smog.
Moreover, CNG also costs less than gasoline and diesel and is currently priced at $1.46 in North Carolina, for the energy equivalent of one gallon of gasoline.
Piedmont notes the benefits for fleet owners, as most CNG customers are looking for a reliable, low-cost and lower-emitting fuel to power fleet vehicles such as refuse trucks and delivery vehicles, which run regular routes and then return to a fixed refueling base. Regional long-haul carriers also are turning to CNG to use an expanding network of public CNG stations.