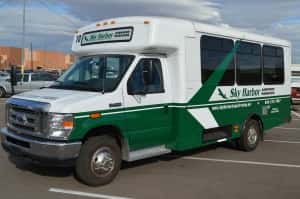 Six months after converting its shuttle buses to propane autogas, Sky Harbor Airport Parking has saved 50% in fuel costs compared with gasoline and reduced greenhouse-gas emissions by 20.8 tons, according to
Blue Star Gas.
Sky Harbor Airport Parking provides shuttle services to the Phoenix Sky Harbor International Airport. General Manager Brandi Casimir made the decision to switch the company's fleet of 10 Ford E-450 passenger shuttle buses to propane autogas in October 2014.
The shuttle company had researched several alternative fuels, but Casimir says, 'The numbers Blue Star Gas presented us with showed an affordable upfront cost with a projected return on investment in just seven months.'
Blue Star Gas converted the shuttles to the Prins Vapour Sequential Injection system and installed two 1,000-gallon on-site propane fueling tanks and dispensers. One of the deciding factors for Casimir on converting to the Prins system was that it could be transferred from vehicle to vehicle as Sky Harbor Airport Parking made future updates to its fleet.
"Our shuttles travel an average of 65,000 miles per year, making the eight-minute round-trip from the parking facility to the airport terminal nearly 24 hours a day, seven days a week," she says. "We usually replace them after five years of service. In the end, we wouldn't have converted our fleet unless this type of transition was possible."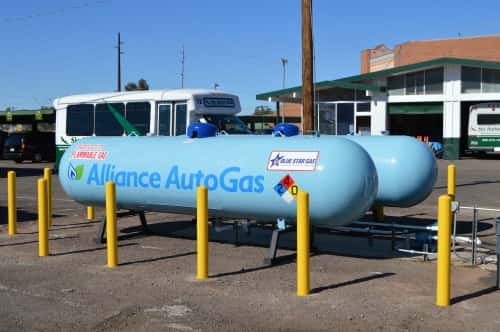 Blue Star Gas notes Sky Harbor Airport Parking is the latest customer it has acquired as the company expands into the Phoenix area. Blue Star Gas says it currently services several fleets, has installed three fuelling stations and supplies more than 1 million gallons of propane autogas to the city each year.
According to Darren Engle, director of government relations for Blue Star Gas, bringing more low-carbon alternative fuels to Phoenix is important because of the city's air-quality challenges.
"Air pollution has resulted in negative national attention for Phoenix," says Engle. "It's a similar situation to what we've seen in Salt Lake City and other communities nationwide. Displacing gasoline and diesel with low-carbon alternative fuels like propane autogas is a clear path forward and a major part of the solution for many communities."