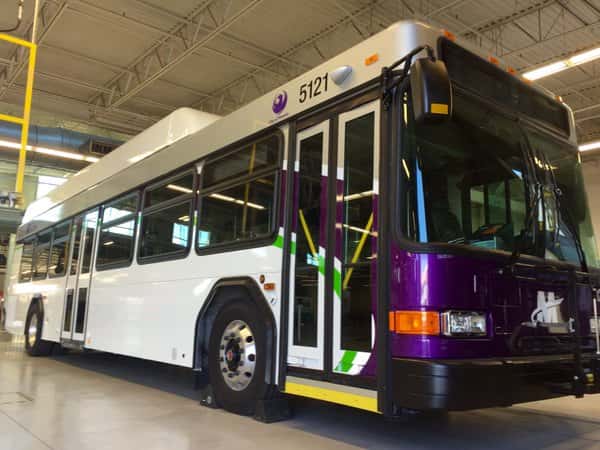 The Phoenix Public Transit Department has ordered 120 new compressed natural gas (CNG) buses to serve the Arizona city's local routes. This is the City's first order for new 40-foot buses since late 2013.
The CNG buses are built in California by the Gillig Corp. and have a driving range of at least 400 miles per tank, which means most of the new buses would not require daily refueling. The city says that the new buses replace existing liquefied natural gas (LNG) buses that average 12 years in age and 500,000 miles of service. Some of the old LNG buses are as old as 18 years with nearly 1 million miles on the odometer.
Each Gillig bus is equipped with an improved air conditioning system, which includes two units that work in tandem to cool both the front and back of the bus simultaneously. Gillig's CNG buses cost $520,000 each and are paid for with both federal and county (Prop. 400) funds.
Five to eight buses will arrive each week now through July, and the city says its staff will inspect each one to ensure all equipment is in working order, as well as install the farebox. Once a bus clears inspection, it is sent to one of Phoenix's three bus yards and then put into service.
This order of Gillig buses replaces about 25% of the city's bus fleet. Over the next 18 months, Phoenix Public Transit users can look forward to new 40-foot and 60-foot articulated buses.