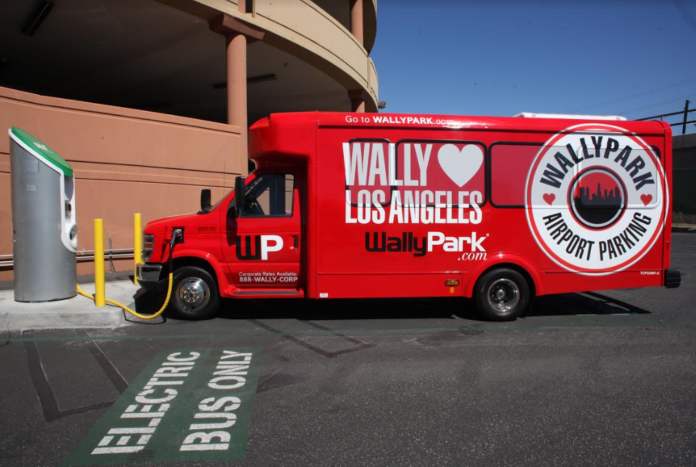 Phoenix Motorcars LLC, a manufacturer of electric vehicles (EVs) for the fleet market, has deployed 16 of its Zero Emissions Utility Shuttle (ZEUS) buses to WallyPark Premier, an airport shuttle bus service and subsidiary of the L&R Group of Companies.
According to Phoenix Motorcars, the 14-passenger fully electric buses are being used to service off-airport parking at Los Angeles International Airport. Notably, this deployment makes WallyPark Premier the first all-electric airport parking depot in the nation.
Phoenix Motorcars says it will continue electrifying and deploying buses to other L&R parking depots, such as Joe's Parking, Avistar and Airport Center.
"We are pleased to partner with Phoenix Motorcars as we electrify our fleet of buses. We are committed to this technology and to providing our customers with a superior driving experience," says L&R Head of Operations Ed Pomponio.
Each of the buses is expected to reduce greenhouse-gas emissions by more than 60 tons of carbon dioxide per year compared with a conventional diesel shuttle. Further, all of the buses have fast-charging capability, which allows full charging to take place in less than three hours.
"In addition to providing a great driving experience, we look to provide our clients sizable savings in fueling and maintenance costs," says Phoenix Director of Sales Tarek Helou. "L&R's vision will change the market landscape and make a positive impact in the airport, hotel and parking industry."
The L&R Group of Companies offer premier parking facilities in major metropolitan areas across the nation, including Atlanta, Chicago, Denver, Houston, Los Angeles, Newark, Orlando, Philadelphia, San Diego and Seattle.