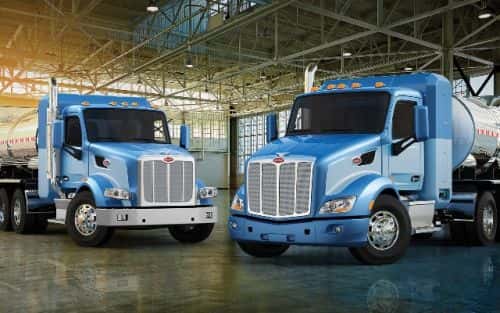 Peterbilt Motors Co. is expanding its portfolio of natural gas vehicles. The company has introduced two new medium-duty vehicles powered by compressed natural gas (CNG), as well as announced it is now offering two other vehicle models in liquefied natural gas (LNG) configurations.
Peterbilt's new medium-duty CNG vehicles include the Model 337 and the Model 348. The company says both vehicles are now in production and can be configured as trucks or tractors. They are powered by Cummins Westport ISL G engines with 320 hp and 1,000 lb.-ft. of torque.
"Peterbilt is the established market leader in natural-gas-powered Class 8 commercial vehicles, and we're pleased to bring this expertise to medium-duty markets," says Darrin Siver, general manager of Peterbilt and vice president of PACCAR.
According to Scott Newhouse, Peterbilt's chief engineer, the new medium-duty models are optimized for this configuration with 110-inch BBCs.
"The dimensions provide a BBC two inches shorter than any competitive model and a cab height that is 2.5 inches lower," says Newhouse.
Peterbilt has also announced its Model 579 and Model 567 vehicles are now available in LNG configurations.
Robert Woodall, the company's assistant general manager of sales and marketing, notes Peterbilt began production of CNG versions of the two models last year.
"We're again expanding our natural gas product offerings with liquefied natural gas configurations of these same models, giving customers greater choice and flexibility for their business and operation requirements," says Woodall.
The LNG configurations are available as daycabs, and production is scheduled for June. Both trucks are powered by the Cummins Westport ISX12 G engines with up to 400 hp and 1,450 lb.-ft. of torque.
Image: Peterbilt's Models 579 and 567.