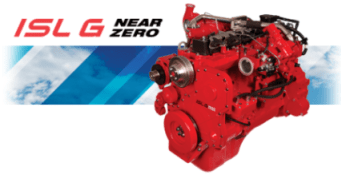 Peterbilt Motors Co., located in Denton, Texas, says it is now introducing the Cummins Westport ISL-G Near Zero NOx emissions natural gas engine for its Models 567, 520 and 320.
According to Peterbilt, the company made the move because ISL-G Near Zero engine emissions are 90% lower than the current U.S. Environmental Protection Agency NOx limit by way of a three-way catalyst in the after-treatment, advanced engine calibration and closed crankcase ventilation system.
"Peterbilt is producing increasingly efficient products. The addition of the ISL-G Near Zero emissions engine strengthens Peterbilt as an environmental leader," comments Scott Newhouse, Peterbilt's chief engineer.
As reported, the new engine's performance and efficiency match the current ISL-G, with 320 horsepower and 1,000 lb-ft torque available. Peterbilt expects that customers with line-haul, vocational and refuse applications will benefit from the efficient option.
Like the currently available ISL-G engine, the ISL-G Near Zero operates on 100% natural gas, which can be carried on the vehicle in either compressed (CNG) or liquefied (LNG) form. The new ISL-G Near Zero can also run on renewable natural gas (RNG).
The company notes that the Cummins ISL-G Near Zero emissions engine will become available for production in both Models 520 and 320 by year-end and for Model 567 in early 2017.