Attendees of the recent 2015 Green Transportation Summit and Expo in Portland, Ore., had a chance to take a variety of alternative fuel vehicles (AFVs) for a spin at the Portland International Raceway during the conference's Performance Ride and Drive event. It was a great opportunity for fleet managers looking to expand their use of AFVs to see the latest technologies and kick some tires before making a major buying decision.
Tim D'Alessandro of Rogue Valley Transportation District in Oregon checked out a propane-fueled Blue Bird Vision school bus, which is powered by the Ford 6.8-liter engine and uses ROUSH CleanTech's autogas fuel system. Eighty percent of D'Alessandro's current fleet runs on CNG, but he's considering a move to propane for an upcoming purchase of 23 paratransit vehicles.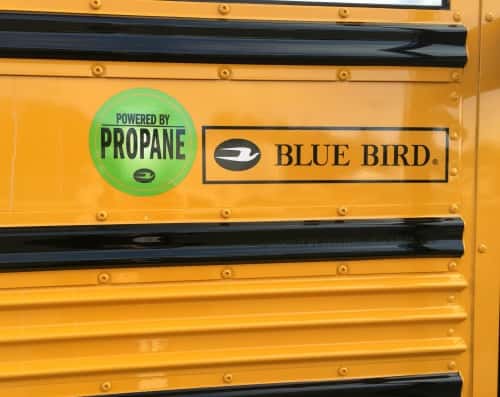 'It just makes more sense,' he explained. 'They're housed at different locations, so fueling geography is kind of an issue.'
'We're aggressively moving forward with compressed natural gas in our fleet, looking at the dedicated applications as much as possible,' noted fellow attendee Larry Berdan, from Puget Sound Energy. 'But predominately now, as we transition, it will be dual-fuel vehicles.'
Despite his fleet's current emphasis on dual-fuel, he test-drove a variety of vehicles, 'trying to get a wide perspective of all the different options that are available.'
'There are lot of changes going on right now in the industry, and I think the growth and performance of the vehicles and the reliability of the vehicles is really moving quickly,' he commented.
Berdan was particularly impressed with one CNG-powered Ford F-550.
'I think the conversion done by World CNG in the F-550 Ford truck is pretty unique in the industry, and I was very impressed with the performance,' he said.
He also drove a CNG-powered Freightliner Cascadia that featured dual tanks. 'It certainly seems to have all the power anyone would need,' Berdan said.

Jason Reed of Pacific Truck Centers was at the ride-and-drive event with a Freightliner Columbia glider that featured a dual-fuel diesel/liquefied natural gas (LNG) system from American Power Group.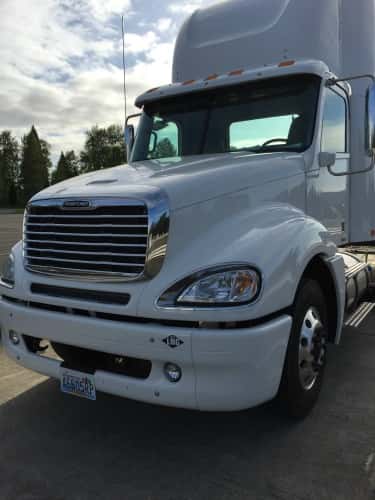 'It's displacing diesel with a lower-cost, cleaner fuel,' he explained. 'You can probably expect a truck like this to average [diesel] displacement of about 40 percent to 50 percent.'
Customers appreciate the flexibility of dual-fuel vehicles, Reed noted. 'It's a regular Detroit Diesel Series 60 engine,' he said. 'If it runs out of LNG, it just keeps running on diesel. You wouldn't notice the difference. So you have a typical range, like you would in a comparable diesel truck.'
Ron Anders from Freightliner Custom Chassis Corp. showed off the S2G, which features an 8.0-liter, 339 hp engine running on propane autogas. This medium-duty truck has been in full production since June of last year.
'It's relatively new, but we have 225 or so that are actually in the field,' Anders said. 'The first release for this was into the propane delivery market. They're actually the industry that drove the development.' The Propane Education & Research Council (PERC) funded about $3 million for the development of the engine and fuel system.
Anders said the S2G's dedicated propane engine avoids some of the pitfalls experienced in propane conversions. 'Cold weather starts were a big problem, he explained. 'They had problems with exhaust manifolds warping, with valves in the engine receding into the head. We want to be able to have a product out there that would be reliable. If people are using a work truck for work, they can't afford the downtime.'
Anders noted that the S2G was tested under extreme conditions, such as in a cold room (-38 degrees F) in Minnesota; hot testing out in the Arizona desert; and high-altitude testing at Pike's Peak in Colorado.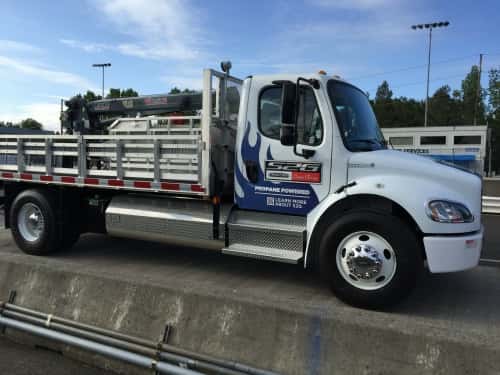 'We tried to cover as many areas as possible that it might potentially run in, and it's performed very well,' he commented.
Test drivers also enjoyed the quietness of the S2G's engine, as well as the relative maneuverability and visibility for a truck of its size.
'We have the best visibility on the market because of the design of the hood slope, the design of the dash and the size of the windshield,' he said. 'So from a safety standpoint, the driver can see much closer to the vehicle. There's less chance of [a driver] hitting obstructions.'
Another advantage of the S2G – which is available in box truck and flatbed configurations – is that the factory installation makes it a Freightliner-warranted product, so fleets do not have to go to multiple manufacturers for warranty work.
Sue Campbell is a freelance writer based in Oregon.