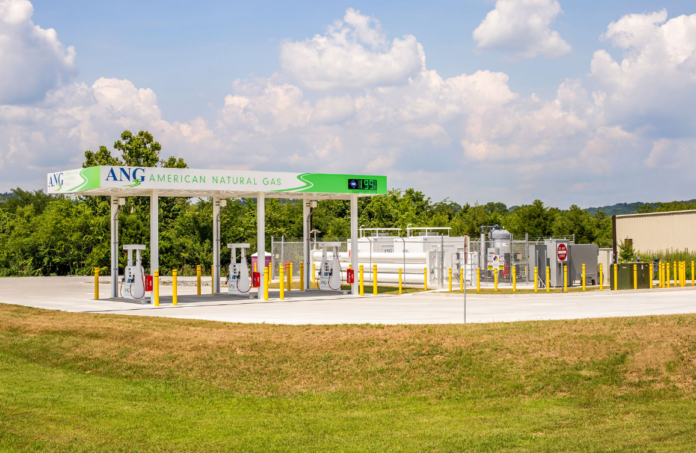 American Natural Gas (ANG), a distributor of alternative motor fuels and a portfolio company within HC2 Holdings Inc., held a ribbon-cutting ceremony last week, in collaboration with Tennessee Clean Fuels, to unveil its new public compressed natural gas fueling station in Fayetteville, Tenn.
The facility, located at 1560 Winchester Hwy., will be open to the public, and PepsiCo's Frito-Lay division will be a major customer with its fleet of CNG tractor-trailers.
"At ANG, we're committed to building better stations, serving our customers, and introducing the power of CNG to new communities across the country," says Drew West, CEO of ANG. "It's an honor to be in Fayetteville today to celebrate our new station, highlight the achievements of the region's energy pioneers, and honor Frito-Lay for its distinguished leadership and commitment to moving the alternative fuel industry forward."
"We are thrilled that Frito-Lay selected Fayetteville and Tennessee as a site to continue expanding their CNG fleet and are excited to get to know ANG as they help make it happen," says Jonathan Overly, director of Tennessee Clean Fuels. "CNG has so many benefits: It reduces greenhouse gas and criteria pollutant emissions, supports growing more green American jobs, and reduces oil imports – don't forget that we are still roughly 20% dependent on countries like OPEC member-states for overseas oil. Frito-Lay and ANG are helping us build a stronger and more independent and resilient USA."
West and Overly were joined in the opening statements and ribbon-cutting ceremony by Ken Marko, senior national fleet sustainability manager for PepsiCo's Frito-Lay division; Rep. Pat Marsh, Tennessee General Assembly; Britt Dye, CEO of Fayetteville Public Utilities; and Carolyn Denton, director of Fayetteville-Lincoln County Chamber of Commerce.
"We could not be more excited about the completion of this ANG CNG fueling station, which is located just a few miles from Frito-Lay's Fayetteville manufacturing facility," says Marko. "Having a national infrastructure for alternative fuel is critical to the expansion of Frito-Lay's CNG fleet and for other companies currently using or considering this technology."
"Fayetteville and Lincoln County are very lucky to have been chosen by American Natural Gas for the location of their new compressed natural gas station," says Marsh. "This station should be great for businesses in our community, and hopefully, it will continue to bring more businesses to our area, which in turn, will lead to more quality jobs for Lincoln County's citizens."
"Fayetteville-Lincoln County welcomes ANG to the business community. We appreciate the efforts of Frito-Lay in locating the fueling station in Fayetteville and making this alternative fuel choice available to the public," says Denton.
At the event, Cody Butterworth, LD&T associate from Frito-Lay's Fayetteville traffic center, and Brent Tesla, vice president of operations at ANG, demonstrated how straightforward CNG fueling is with one of Frito-Lay's tractor-trailers. The truck was connected to a 3600 PSI nozzle, and fueling continued like it would at a typical gas station.
Open 24-hours, the fast-fill Fayetteville station has three consumer-friendly dispensers equipped with NGV2 nozzles to optimize the experience for heavy-duty, high-capacity users, as well as NGV1 nozzles for light- and medium-duty use. The station accepts all major credit cards. ANG says it will oversee operations with monitoring platforms and an expert on-call maintenance team.
ANG currently owns and operates approximately 40 fueling stations in 13 states across the U.S., inclusive of stations in process and under development.